Beautiful black rhino calf marks fortieth successful birth for the critically endangered species, at Kent wild animal park.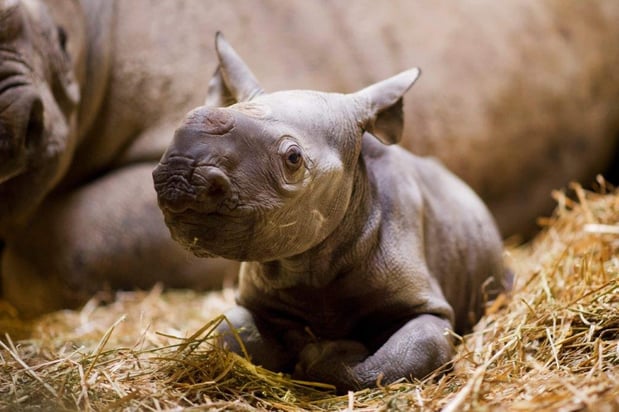 Keepers and staff at Port Lympne Hotel & Reserve, are celebrating as they announce the birth of another critically endangered black rhino calf, born on 31st January 2018.
The birth is particularly significant, not only because it is the fortieth black rhino birth at the Reserve, a species renowned for being difficult to breed in captivity, but also because Port Lympne celebrated it's fortieth year of caring for these critically endangered animals in 2017.
Paul Beer, Head of Rhino Section at Port Lympne said: 'Obviously we're all absolutely delighted to welcome another calf to our black rhino herd. She's healthy, strong and already keen to play and explore. Her mother, Solio, is a first time mum and she is doing a fantastic job. It's still a little too cold for them to venture out into the paddocks, but as soon as the weather warms up, I have no doubt that the little one will be out and about exploring and playing every day.'
The adorable female calf is the second black rhino born in 2018 at the Reserve and, whilst it is too early to tell if the calves will make good candidates to be returned to protected areas of the wild, their arrival is fantastic news for the global breeding programme, designed to save the species from extinction.
Simon Jeffery, Port Lympne Animal Director added: 'Black rhino have been hunted to the brink of extinction in the wild and so, captive breeding programmes are vital to protect the species for the future. Every birth brings hope for the survival of these incredible animals.'
The Reserve, near Ashford in Kent, now holds the largest herd of black rhino in the UK and, with more births expected in the near future, the wild animal park has firmly cemented its reputation, as the most successful UK breeding sanctuary for the species.