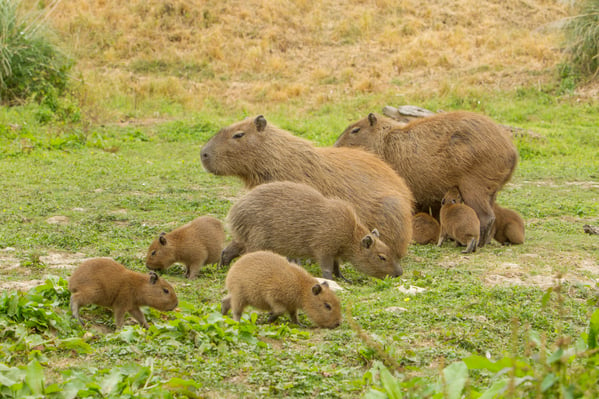 Port Lympne Hotel & Reserve, home to Kent's authentic safari experiences, is celebrating the births of 15 cute capybara kits!
The popular visitor attraction welcomed an adult male from sister park, Howletts near Canterbury and three adult females, to the South American Experience at the Reserve in the Spring of 2017.
Simon Jeffery, Animal Director said: 'We were hopeful that the capybara would breed, and they have surpassed themselves! The youngsters are all in fine form and can often be seen jumping in and out of their watering hole, playing in the water and exploring the undergrowth. Although they never stray too far from the watchful eyes of their parents.'
The capybara family share their home on the Reserve's South American Experience with Vicugna, lowland tapirs and rhea birds.
Simon added: 'Our South American Experience is fast becoming a capybara kingdom, but the other residents all seem to get along well with them and the kits are not causing too much chaos!'
Capybara are the largest rodent in the world, native to South America they are semi aquatic animals, preferring to live in wetlands and marshes. Females give birth to between one and eight kits, although the average number born is four.
Visitors to the 600 acre wild life reserve this Summer will be able to see the pups from the safari trucks as they journey through the park's South American, Asian and African Experiences.