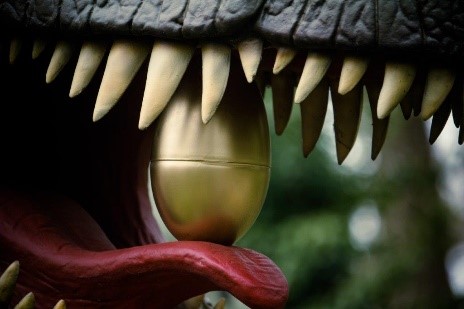 Port Lympne Hotel & Reserve, Kent's largest wild animal park have announced a cracking programme of activities for visitors to take part in over the Easter break.
From Friday 30th March to Sunday 15th April, visitors will be able to explore Dinosaur Forest and discover new life sized prehistoric creatures that have stomped in to take up residence in Kent's largest outdoor dinosaur exhibit.
Steve Green, Commercial Director at Port Lympne said: 'There will be even more teeth, more scales and more fun in Dinosaur Forest this Easter, as our visitors come face to face with our true to life prehistoric creatures.'
The popular visitor attraction has also announced that they will be running a Golden Egg Competition, which will see a lucky winner taking part in a baboon feed experience every day, throughout the holiday.
Steve added: 'We've hidden some golden eggs around Dinosaur Forest, one of which is a winning egg! Just scan the QR codes on the eggs to see if you'll be in with a chance of meeting our cheeky baboons at the end of your visit.'
In animal related news, the Reserve near Ashford, is currently working on creating new animal habitats, so visitors will be able to enjoy walking with wallabies – a new species to the park, and, later this holiday, seeing the popular drill monkeys explore their new habitat and the wolves wandering through their large new wooded world at Wolf Lodge.
Simon Jeffery, Animal Director commented: 'We have welcomed a number of new species to the Reserve recently and we're in the process of creating lovely new habitats for some of our residents too. Visitors will also be able to spot our cute new arrivals as they explore the Reserve on the safari trucks, including the baby rhinos, baby camel, baby Mishmi takin and many more!'
In addition to the cute new animal arrivals and new animal habitats, the Reserve has also welcomed two new female Amur tigers, which can be seen in the large tiger area at the top of the park and two female lions, who they hope will be perfect pals for visitor favourite, Milo- the resident male lion.
Simon added: 'There's so much for our visitors to discover this Easter, from enjoying our safaris, to taking part in competitions, joining our animal talks and, on Bank Holiday Monday, our visitors can also watch as our popular family of gorillas enjoy their very own Easter egg hunt!'