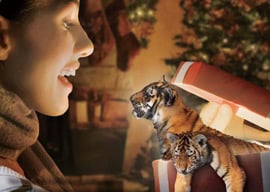 Noticed everything is suddenly covered in glitter? TV ads have turned into mini-fairytales? It can only mean one thing, Christmas is coming!
With that in mind how is your Christmas shopping going? Before you fall back on the old faithfuls of new socks, perfume or the latest gadgets, why not go for something a bit wilder?
This Christmas Port Lympne Reserve and Howletts Wild Animal Park have a great range of gift options for you. And there are some fantastic deals to be had! Here's a taste of what you could buy, instead of that comfy new pair of slippers or a bath bomb gift set.
Annual Memberships
The gift that keeps on giving! Choose from Port Lympne Reserve, Howletts Wild Animal Park or a dual park membership to gain unlimited access all year.
Not only that but membership comes with a host of additional benefits including discounts in our restaurants and cafes, special members days and 50% off selected Short Breaks at Port Lympne!
Short Breaks
Perhaps the most awe-inspiring way to experience Port Lympne Reserve is by staying in our stunning accommodation overnight. Now you can treat someone by purchasing a short break, or gift vouchers towards the cost of one, as a gift! Treat someone special to a dream safari adventure - right here in Kent! Choose from Tiger Lodge, Rhino Lodge, Hog Deer Creek and the Treehouse Hotel, or experience a taste of Africa at Livingstone Cottage. Alternatively, get back to nature with a cosy glamping experience at Pinewood, Bear Lodge or our multi award winning Giraffe Lodge, with the opportunity to hand feed our beautiful giraffe!
Animal Experiences
From Keeper Academy to photography days, we offer many different ways to interact and learn about our animals. Choose from full day experiences, like Junior Ranger and Keeper Academy which allow youngsters to help our keepers look after the animals at Port Lympne or Howletts, or shorter safari experience treats like animal encounters, which give you the opportunity to choose your favourite animal for a special once in a lifetime face-to-face meeting. From direct animal encounters to educational experiences like our photography courses, which help you take amazing wildlife pictures, Experiences can be booked online or gift vouchers can be purchased, making it easier than ever to find a unique gift for your loved ones.
Adopt an animal
A great way to directly help support our conservation efforts for some of the world's most endangered species, animal adoption is also a great gift for family members of all ages. From just £2.50 per month or £30 for the year, you can choose to support our work to protect and reintroduce to the wild some of the world's most majestic at-risk animals. Every adoption pack includes a personalised certificate, fact sheet and image of your chosen animal, plus you can choose from a number of additional benefits to enhance your gift.
There are plenty more gift options available, from gift vouchers to cuddly toys, when you visit either Port Lympne Reserve or Howletts Wild Animal Park in the run-up to Christmas.
To see our full range of Christmas gifts visit our online shop.