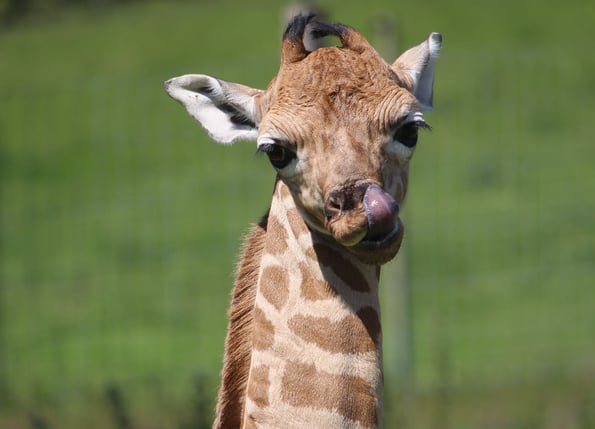 With less than 2500 mature Rothschild giraffes left in the wild, Port Lympne Hotel & Reserve are celebrating the birth of a healthy male calf, born on Thursday 7th June at the popular visitor attraction. This is mother, Lehana's second calf to be born at Port Lympne, sired by male, Valentino.
It has been a tense wait for the expert keepers at Port Lympne Hotel & Reserve as the gestation period for a Rothschild giraffe can last up to 460 days.
The incredible story has been shared globally thanks to a live camera feed straight from the Giraffe House to the Reserve's Facebook and YouTube pages, providing extraordinary access to this very rare occurrence.
At its peak, over 1000 people around the world simultaneously tuned in to the live YouTube feed and the amazing birth has now been viewed almost 100,000 times. Animal lovers were able to watch as, less than an hour after his delivery, the calf took his first tentative steps under the maternal gaze of Lehana.
The calf will join 8 other giraffes at the popular Kent Reserve, including 5 of the Rothschild sub-species, one of whom, Lunar, is also expecting.
Simon Jeffery, Animal Director said: 'We are absolutely over the moon to welcome this lovely calf. We've all been waiting anxiously for his arrival and managed to capture the 'first moments' on our Facebook & Youtube streaming platforms.'
Simon added: 'We are privileged to be part of such an important breeding programme. Conservation of endangered species is at the core of what we do, and this fabulous little male will have a vital role to play in the future.':
Carl Parker, Head of African Experience said: 'This is Lehana's second calf and stands at approximately 6 feet tall already! Although it's early days, he is suckling well and already starting to explore, under the watchful eyes of his Mum Lehana and Aunt, Lunar.'
Rothschild giraffes are found in Uganda and Kenya and spend up to 75 percent of the day eating a diet of leaves and bark, with their favourite being acacia trees.