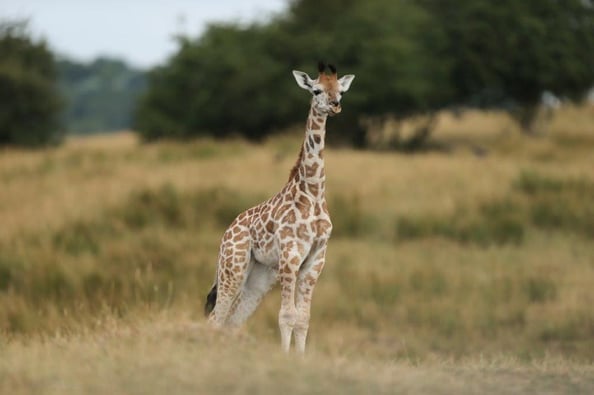 Port Lympne Hotel & Reserve's female giraffe calf has taken her first steps out onto The African Experience – 110 acres of Kentish savannah, at the popular wild animal reserve, alive with African animals.
The calf, recently named, Kianga, by supporters of the Reserve and conservation charity The Aspinall Foundation, was accompanied by her mother, Lunar as she met the rest of the giraffe herd.
Simon Jeffery, Animal Director said: 'Kianga clearly loves exploring The African Experience and although she is quite adventurous, she doesn't stray far from her mother. The rest of the herd were keen to meet her and the boys are being very protective of her.'
Kianga attracted world wide media attention after her birth was captured live on both the reserve's YouTube and Facebook channels, with thousands of fascinated giraffe fans tuning in from around the world.
Simon added: 'We would like to thank all our supporters for helping us name both of our giraffe calves. Tragically, we lost the little male recently, but we decided to name him posthumously – our supporters chose the name Jabari, which means brave. We all feel that it's a very fitting name. Kianga, our female calf's name means, sunshine or sunbeam – also a very apt name.'