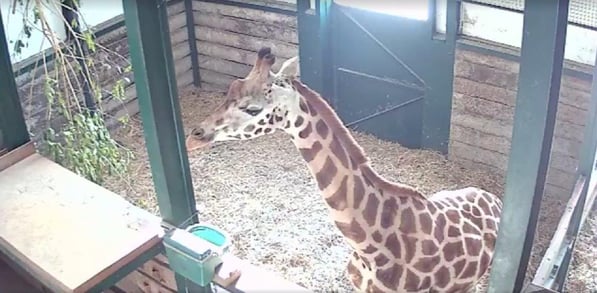 Port Lympne Hotel & Reserve, Kent's largest wild animal park and home to the only giraffe in the County, has announced that they are expecting not one but two adorable additions to their herd of critically endangered, Rothschild giraffe.
The popular visitor attraction, near Ashford made the announcement on their social media pages recently, as they published a live camera feed straight from the giraffe house to their Facebook and YouTube pages.
Animal Director, Simon Jeffery said: 'We are delighted that our two female giraffe, Lehana and Lunar are both expecting again and we wanted to share this incredible journey with everyone far and wide.'
The 600 acre breeding sanctuary has announced that it will continue the live footage from the giraffe house via their Facebook and YouTube channels, so it can be watched twenty four hours a day. Giraffe fans can tune in every night via Facebook Live from 6pm - 10pm.
Simon added: 'This is a really exciting time for us and based on the comments and shares we have already received – people are really pleased that we are sharing this with them. It's fantastic that giraffe fans, not just in the UK, but from all around the world are joining in too! I must admit it's very addictive to watch and I can't wait until the calves are born.'
Port Lympne is home to a herd of eight giraffe, three adult male geldings and the family of Rothschild giraffe which include six year old male, Valentino, seven year old females, Lehana and Lunar and their offspring, Bakora and Mwezi who were born at the Reserve two years ago.
To watch tune into Giraffe Cam Live on The Aspinall Foundation channel at YouTube.com and via the Reserve's Facebook page