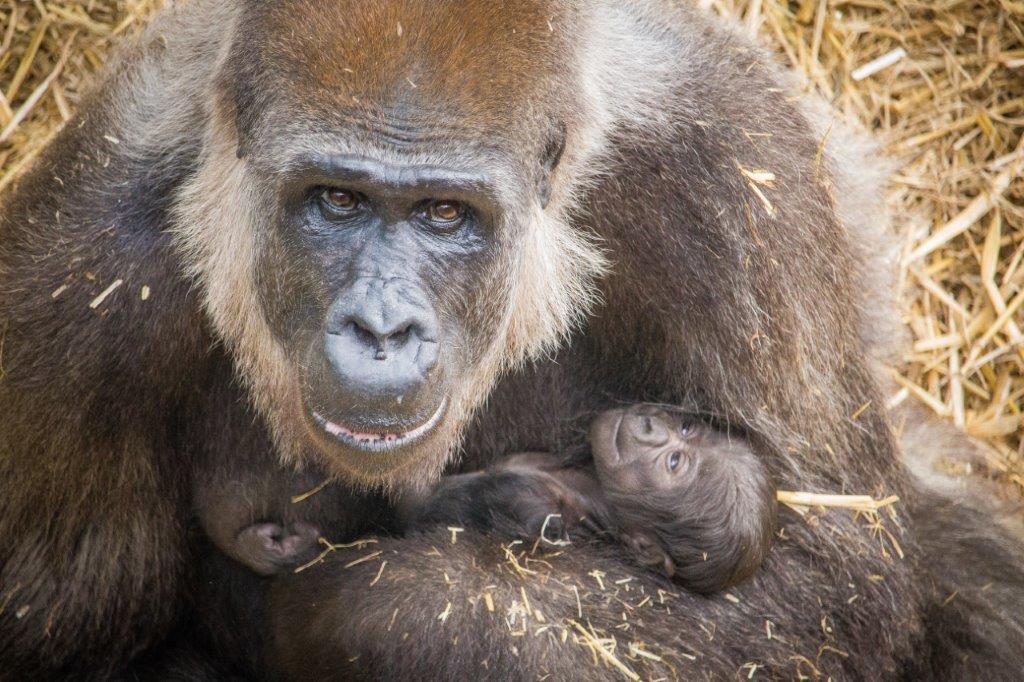 Gorilla keepers at Port Lympne Hotel & Reserve are celebrating as Tamba, a western lowland gorilla, gave birth to her 6th infant on Friday 25th May. This is the 17th gorilla infant to be sired by silverback, Kouillou.
The news was especially welcome, as this takes the total number of births, across the Aspinall Foundation's Kent wild animal parks – Port Lympne and Howletts, to a record 140, firmly cementing the breeding sanctuaries' reputation as the most successful breeders of this critically endangered species in the world.
Phil Ridges, Head of Gorilla Section at Port Lympne said: 'We're absolutely thrilled! Tamba is a lovely gorilla and an experienced mother. Both Tamba and her baby are doing very well.'
The western lowland gorilla is the smallest of the gorilla species but males can still measure up to 6ft, when standing and weigh up to 220 kilograms. The life expectancy of a western lowland gorilla in the wild can be up to 40 years but can extend to 60 in captivity.
Simon Jeffery, Animal Director added: 'Western lowland gorillas are one of the species that we are best known for and we are justly proud of our breeding programme. As well as caring for gorillas at our parks we also work closely with The Aspinall Foundation to protect them in the wild, and where possible, reintroduce gorillas born at the parks back into their natural environment.'
Baby gorillas are born helpless and will initially be carried, close to their mother's body, for several months, until they are old enough to be carried on their mother's back. Infants are usually weaned by the time they are 3 years old, but this can depend on the individual infant and mother.
Western lowland gorillas inhabit some of the most dense and remote rainforests in Africa so it is hard to accurately record exact numbers. However, because of diseases, hunters and habitat destruction, gorilla numbers have been decimated by more than 60% over the last 20 to 25 years.