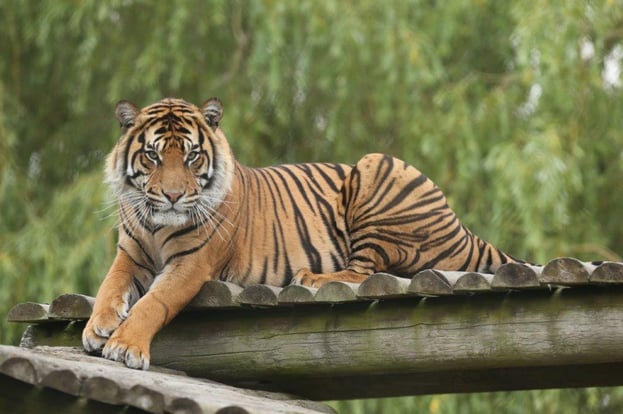 Howletts Wild Animal Park, near Canterbury, have announced the arrival of Achilles, a male Sumatran tiger.
Achilles has moved into the popular wild animal park from ZSL London Zoo as part of a breeding programme, designed to save the species from extinction in the wild.
The mighty Achilles already weighs in at impressive 125kg, although he is still a young tiger. Once fully grown, male Sumatran tigers can weigh up to 140kg, despite being the smallest sub species.
Mark Hawkes, Deputy Head of Carnivores at Howletts said: 'Achilles is already settling in well to his new habitat. He's a very handsome cat, strong and confident. He's been exploring at his own pace and when he's not exploring he's either sunbathing on one of his high platforms or resting in the shade.'
To help Achilles settle in to his new home, the expert keepers have been treating him to various forms of enrichment and hand feeds of special treats.
Mark added: 'Achilles is very motivated by food and he seems to really enjoy this type of interaction with us, although he likes to remind us that he is mighty by occasionally hissing at us through the fence.'
Sumatran tigers are critically endangered in the wild. Habitat loss, conflict with humans and poaching are all contributing factors to the decline in numbers, which are estimated at 400 – 500 individuals.
Adrian Harland, Animal Director commented: 'It is a sad fact that Sumatran tigers are critically endangered in the wild. Captive breeding programmes could play a vitally important role in saving the species and, once we have introduced Achilles to a suitable mate, we are all hoping that it won't be long before we hear the patter of tiny paws at Howletts.'
In other news, on Sunday 29th July the park will go wild for tigers as part of International Tiger Day, with opportunities to win an unforgettable tiger encounter experience, whilst helping to raise valuable funds.