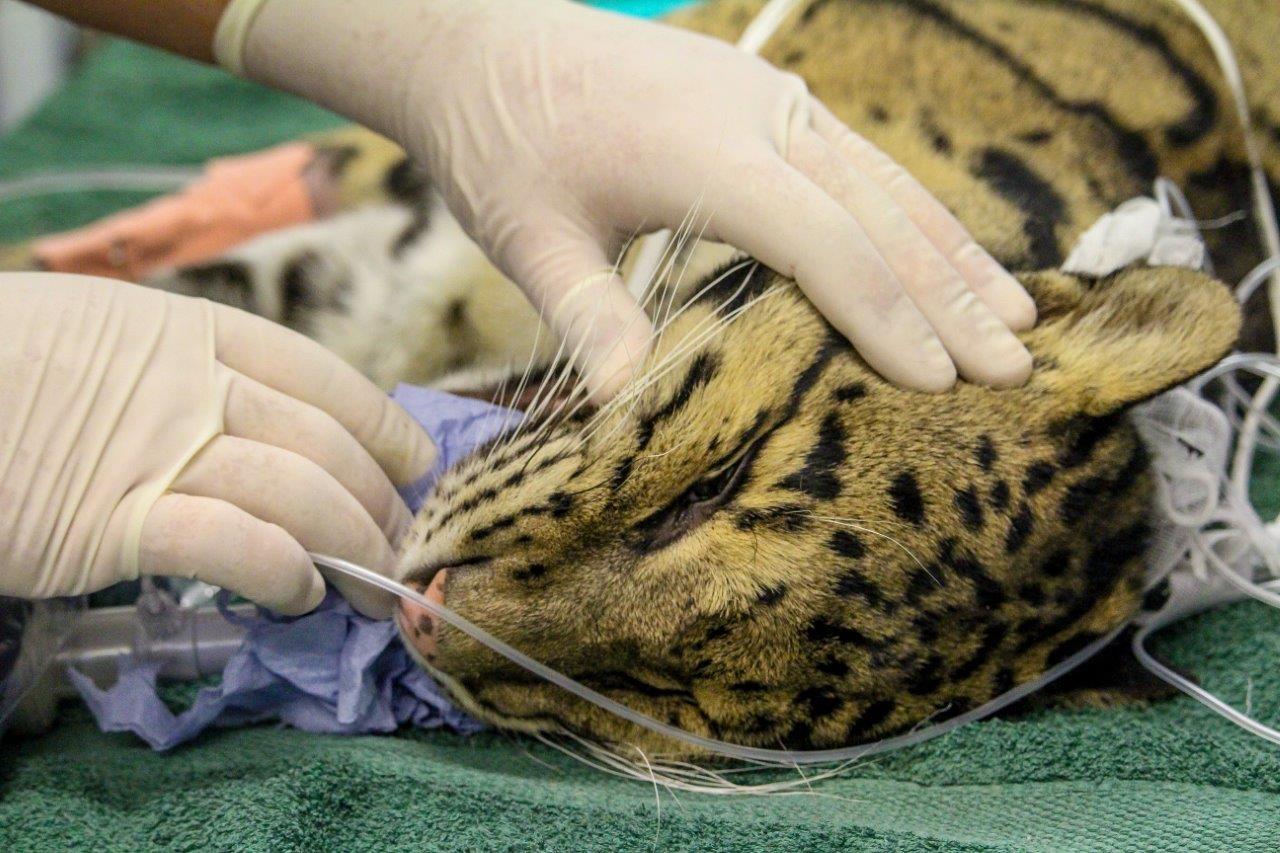 Dentist Called In To Work On Clouded Leopard's Canines

Keepers and vets at Port Lympne Hotel & Reserve, Kent's largest wild animal park, had an unusual animal treatment on their hands, when a male clouded leopard, named Aston, fractured all four of his canine teeth.

The team at the Reserve, near Ashford, called on the services of an expert veterinary dentist, Matthew Oxford BVM&S, GPCert (SAS),MRCVS, from New Forest Veterinary Dental Services to investigate further.

Weighing in at 18 Kilos, 13 year old Aston was sedated and transported to the onsite vet centre for his treatment.

Jane Hopper, Head of Veterinary Services commented 'We had identified that Aston had fractured all 4 of his canine teeth, and that this was likely causing him discomfort. Therefore, we called in Matthew to help. The vet team sedated Aston whilst the veterinary dentist prepared for Aston's treatment. Matthew assessed the teeth and decided that in this case, 4 root canal treatments would be the best course of action. The entire procedure was a complete success. Aston is recovering well, but we'll keep an eye on him over the next few weeks.'

Clouded leopards have the longest upper canine teeth relative to skull size of any living carnivore. The canine teeth are roughly the same length as those of a tiger, despite a tiger being 10 times larger in body weight.

Matthew Oxford, New Forest Veterinary Dental Services added: 'It is really great to be called in to treat interesting animals such as this. Although the procedure we carried out is something we do every day in pets dogs and cats it is nice to be challenged with some different and extreme anatomy!'

Port Lympne Hotel & Reserve is home to three clouded leopards, whilst sister park Howletts near Canterbury is one of the most successful breeders of the species in the world and is currently home to fifteen individuals.

The species is listed on the IUCN Red List as vulnerable, with threats such as deforestation and hunting cited as the main reasons for the decline of this species in the wild.