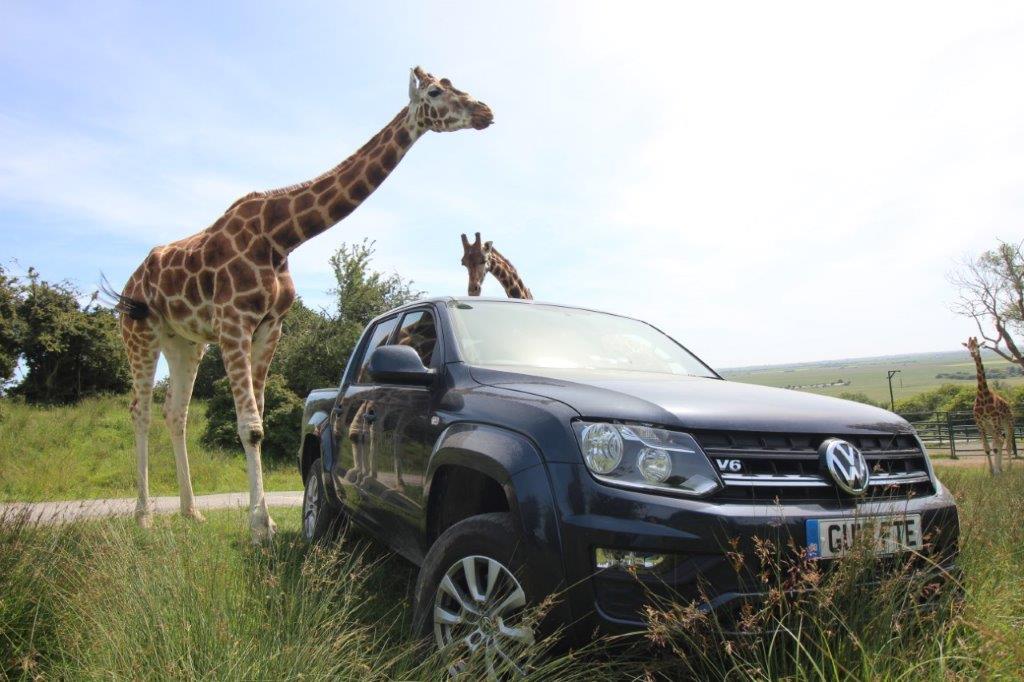 Port Lympne Hotel & Reserve's work force has been given a boost thanks to the delivery of a brand new fleet by South East-based motor group, the JCB Group.
Animal welfare, conservation and maintenance teams at Port Lympne Hotel & Reserve in Kent, which works in conjunction with The Aspinall Foundation, are now driving a fleet of 30 brand-new Volkswagen Amaroks and Caddys.
With over 800 animals to care for, 600 acres of multi-terrain land to cover and thousands of visitors a year to look after, the task of running the parks can be complex and challenging. The new vehicles replace an ageing fleet, enabling staff to roar in to action at a moment's notice.
Steve Green, Aspinall Foundation Commercial Director said: "It was becoming a huge financial burden on the organisation to keep our very old fleet in a good condition. It would have been easy for us to simple acquire vehicles, but we wanted to find a partner who could not only supply, but collectively work to promote who we are and what we are striving to achieve. The JCB Group have turned out to be that ideal partnership. We are aligned on many fronts and we are looking forward to working together. I'd like to thank Jonathan and his team for making this happen."
Family-owned JCB Group: which celebrates 20 years in business this year, has sold in excess of 200,000 vehicles and has grown to include eight different car manufacturers, commercial vehicles and parts supply to the trade industry; deem supporting local community projects and charity organisations as an important aspect of its business, seeing the value it adds to the workplace and to the local community.
The JCB Group were delighted to help at Port Lympne Hotel & Reserve to source its new fleet, providing financial support towards their purchase.
Jonathan Bischoff, Managing Director of the JCB Group said: "We aim to actively support local charity projects and particularly admire the efforts Port Lympne Hotel & Reserve undertakes in its mission to educate, protect and conserve endangered wildlife. We are delighted that our assistance and support in procuring a new fleet of vehicles will help the charity further provide expert care to the animals it protects and deliver more exciting events for visitors in order to generate income to expand conservation efforts."
Damian Aspinall, Chairman of The Aspinall Foundation said: 'We are delighted that the JCB Group have chosen to support us with these vehicles. Our teams at Port Lympne Hotel & Reserve rely heavily on having vehicles that can take on the challenges of working across a 600 acre, multi terrain wildlife reserve, in a variety of roles and these Amaroks and Caddys have already proved that they are up to the task."
Jane Hopper, Head of Veterinary Services at The Aspinall Foundation commented: 'The Volkswagen Caddy is ideal for our department. We need to ensure we can travel safely and quickly to not only attend emergencies if they arise, but also to carry out our routine animal checks and the Caddy certainly ticks all these boxes.'