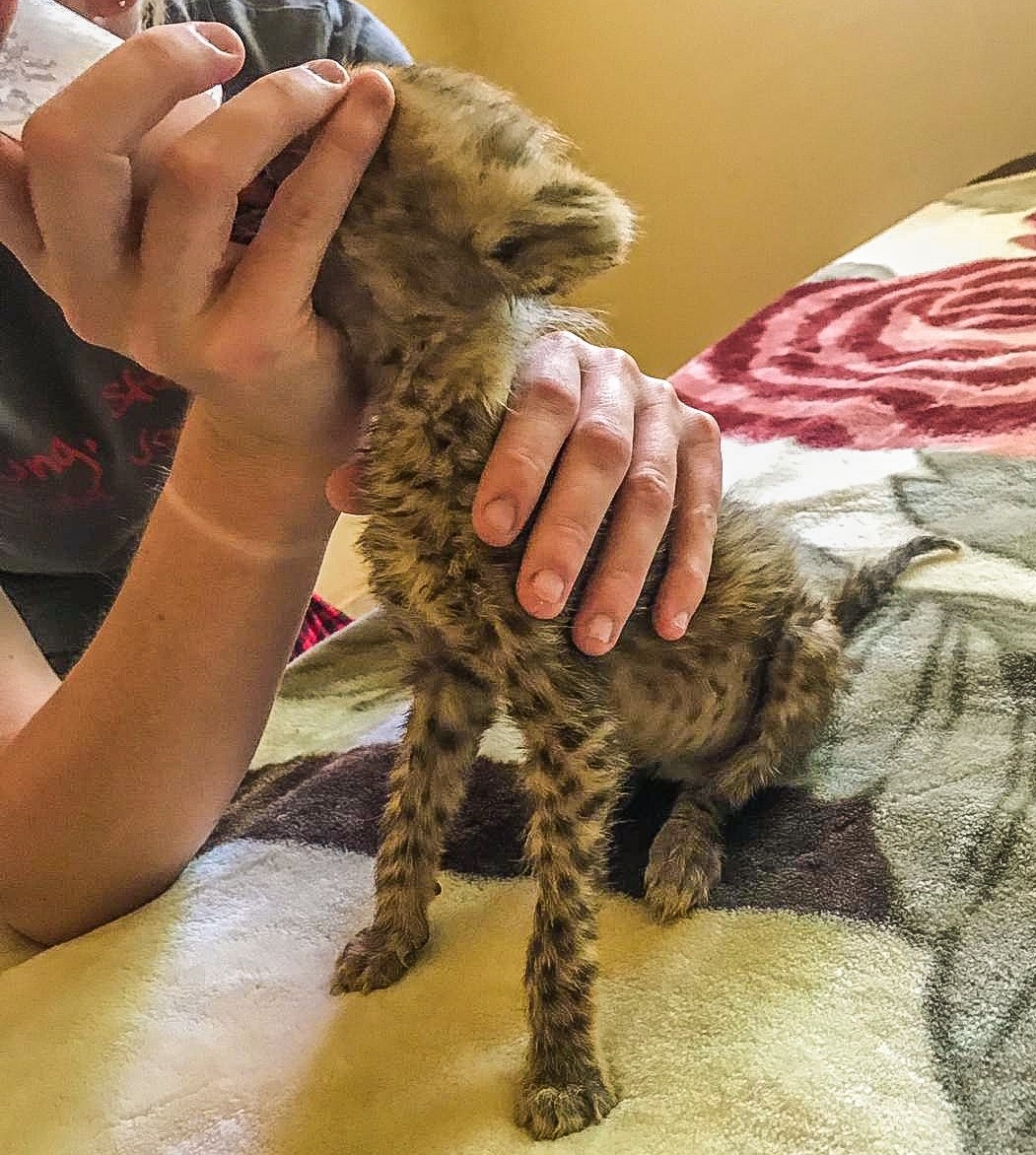 The Aspinall Foundation, a world leading conservation charity based in the UK, has raced to the aid of three cheetah cubs, confiscated from the illegal pet trade by Somaliland Police working with the Somaliland Ministry of Environment and Rural Development, as criminals attempted to smuggle the cats through the country.

It is believed that the tiny cubs, estimated at just weeks old, were destined for the United Arab Emirates, where they would be sold on as pets.
Damian Aspinall, Chairman of The Aspinall Foundation said: 'We were alerted to the plight of these cubs on Thursday evening (4th October) and immediately put plans in place to send our Head of Veterinary Services, Jane Hopper and Animal Director, Adrian Harland, to assist the in-situ authorities in Hargeisa.'
Malnourished, dehydrated and traumatised, the cubs were taken to a temporary holding centre, set up by Cheetah Conservation Fund, in Hargeisa, where they were administered intensive fluid therapy and medication to counteract any bacterial infection.
Sadly, two of the tiny cubs did not survive. The third cub remains in a critical condition and is responding well to treatment, although the conservation charity's team remain cautious.
Adrian Harland, Animal Director said 'The last remaining cub is a real fighter, but we're not out of the woods yet. She's still very fragile but every day brings new hope. Another day alive, is another day she's growing in strength.'
Meanwhile, the shelter is currently housing at least 10 juvenile cheetahs, the majority of which have been rescued in the last two years from smugglers looking to sell the animals, via the illegal wildlife trade.
Damian commented: 'As the 2018 conference on the illegal wildlife trade begins in London, it is imperative that we all work together to end wildlife crime. Hundreds of cheetahs are smuggled through the horn of Africa every year – most of them will die before they ever reach their intended destination. We can no longer sit by and let this happen, we need to act now!'

Cheetah are globally listed on the IUCN Red List (International Union for Conservation of Nature) as vulnerable. Reports estimate that there are currently under 7000 individuals in the wild, with habitat loss, conflict with man and poaching listed as some of the causes of the population decline.
Damian concluded: 'Wildlife crime is not only decimating the numbers of these beautiful cats in the wild, but it also affects thousands of other species across the globe. It is unacceptable that in the 21st Century, we are still treating wild animals as objects for our own amusement.'