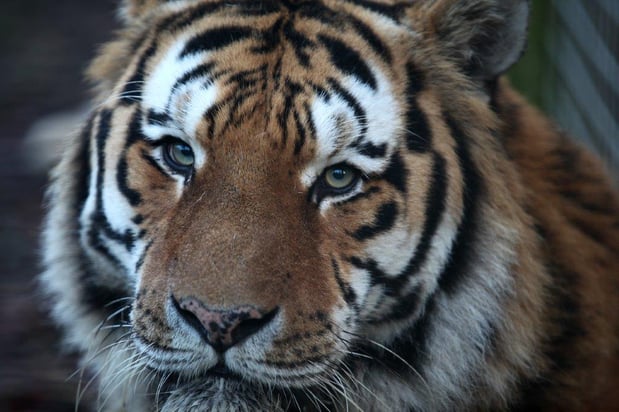 Tugar 1998-2018
It is with heavy hearts, that we have decided to make the difficult decision to euthanise Tugar, our beloved male Amur tiger. He has been fighting age related problems for the last year or so and he had to have medication twice daily for many months.
Keepers have had Tug under very close observations since this time last year and have always kept his welfare at the top of the agenda, making sure he was always as comfortable as possible, in his twilight years.
Tug was born 19 years ago at Port Lympne, where he was hand raised by the large carnivore team, headed by Adrian Harland, now Animal Director at our sister park, Howletts.
Growing up, Tug was a favourite with keepers and visitors alike, enjoying nothing more than a fuss or little treat. Everyone, that has ever met him, has found a friend in his company. He truly was a gentle giant.
In 2005, Tug was introduced to Ingrid, a female Amur tiger from Norway. They have since had 3 litters of cubs and recently become grandparents, as one of their daughters - Zaria, has given birth to 2 cubs in a park in Sweden. This means that Tug's legacy lives on, for others to see and admire.
Tugar was a very special tiger, he was the kind of animal that keepers might perhaps only meet once or twice in their entire career.
He will be missed terribly by all at Port Lympne. Tugar truly was one of the greatest of our animal friends.
'The top of the park just won't be the same without you Tug. We feel so privileged to have known you. You were truly an amazing friend. RIP old boy.'
https://www.youtube.com/watch?v=1UOIWg5O43o&feature=youtu.be