At Port Lympne Hotel & Reserve, we want to make sure your stay with us is an unforgettable experience. To make this possible, we try our best to create unusual, innovative rooms and spaces that will wow our guests. So whether it's a short break with a loved one, family or friends, be sure to check out all of our latest accommodation options…
The Bubble
Sleeps: 2
New for 2018, The Bubble is a luxury romantic retreat with 180 degree panoramic views, perfect for stargazing. The transparent walls and ceiling offer breathtaking views over the 600 acre reserve.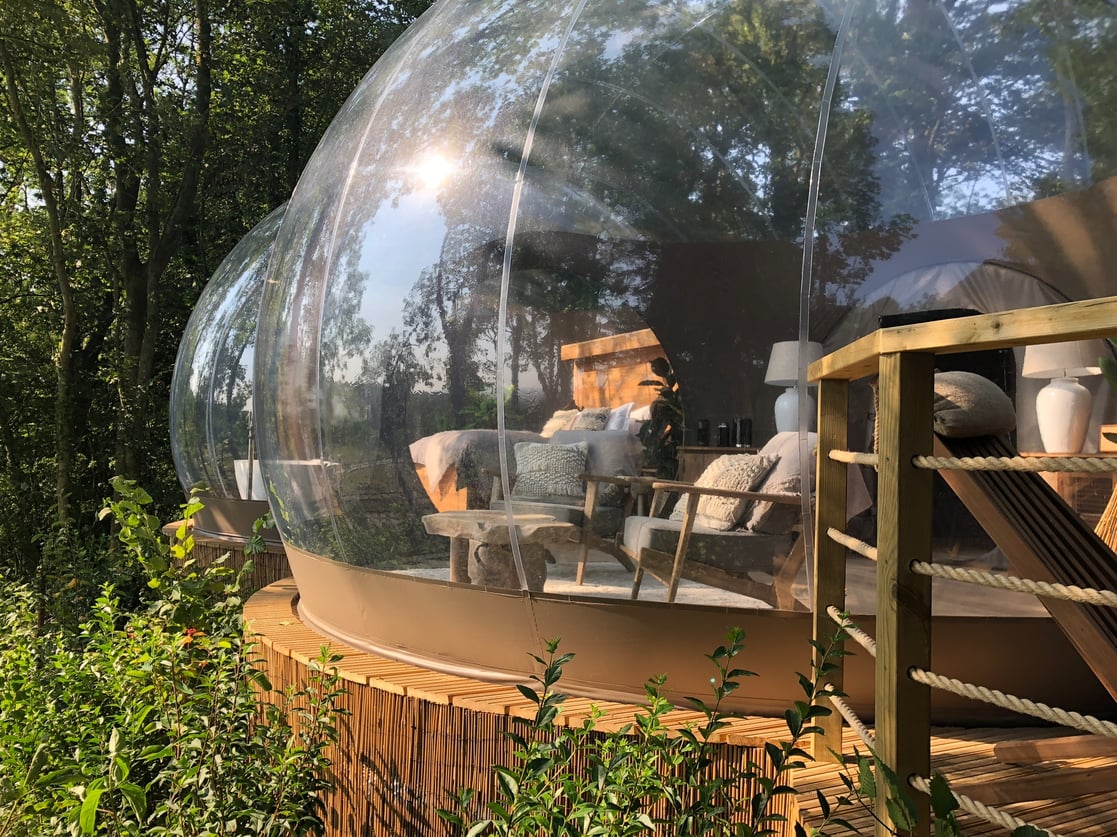 After a day of adventure, relax in a luxurious bubble bath in the freestanding tub overlooking the natural landscape of the reserve, or simply sink into the cosy king size bed and gaze at the stars. The Bubble is perfect for a romantic escape, complete with an adjoining living area and a Nespresso machine, mini bar and record player, you're sure to have a truly relaxing experience.
Forest Hideaway
Sleeps: 4
Escape to Forest Hideaway for the ultimate retreat into nature… This cosy wooden den is set amongst towering pine trees close to our Amur tiger habitat. Snuggle up at night and listen to the calming sounds of the wild after a day of discovering magnificent animals. Your hideaway is complete with a double bed and pull out sofa bed (suitable for children up to 8yrs). There's heating to keep you warm on chillier nights, plus a log burner, ensuite shower room, fridge, tea and coffee making facilities and a smart TV.
Wolf Lodge
Sleeps: 4
Our newly renovated historic cottage, Wolf Lodge, is a completely unique overnight experience where you can sleep close to wolves that roam freely in their wooded garden enclosure next door. Wolf Lodge is located between our award-winning Treehouse Hotel and our 4* hotel.
Originally one of the gatehouses of Philip Sassoon's estate, this charming grade 2 listed cottage has two king size bedrooms both with ensuite bathrooms, plus a cosy cinema room and kitchenette nook.