Ramping up our lifesaving animal welfare work across the country
The Aspinall Foundation is involved in a multitude of projects in Southern Africa, where our diligent team divide their time between rewilding captive animals and emergency rescues and translocations, in close collaboration with partners.
These projects support governments in securing important habitats and implementing specialist conservation strategies, as well as coordinating interventions to secure the lives of animals at immediate risk.
A focus on meaningful contributions to rural communities is at the heart of our work in the region.
Dereck Milburn, The Aspinall Foundation's Regional Director for Southern Africa, outlines some of the key projects undertaken within the last 12 months:
Anti-poaching sting operation
We recently partnered with Hope for Wildlife Helicopter Services and The Wildlife Emergency Fund in providing aerial support for a massive anti-poaching sting operation, in an area adjacent to the Kruger National Park.
The operation was a collaboration of a number of different organisations and local game reserves, including Balule Nature Reserve, Klaserie Private Nature Reserve, Hemmersbach Rhino Force and Phalaborwa Natural Heritage Foundation. The collaborative group got together to clear an unmanaged portion of land which borders the Kruger Park.
The team uncovered horrific scenes and destroyed a number of poacher butcher camps where bush meat was hanging to be dried. Weapons and equipment were also uncovered.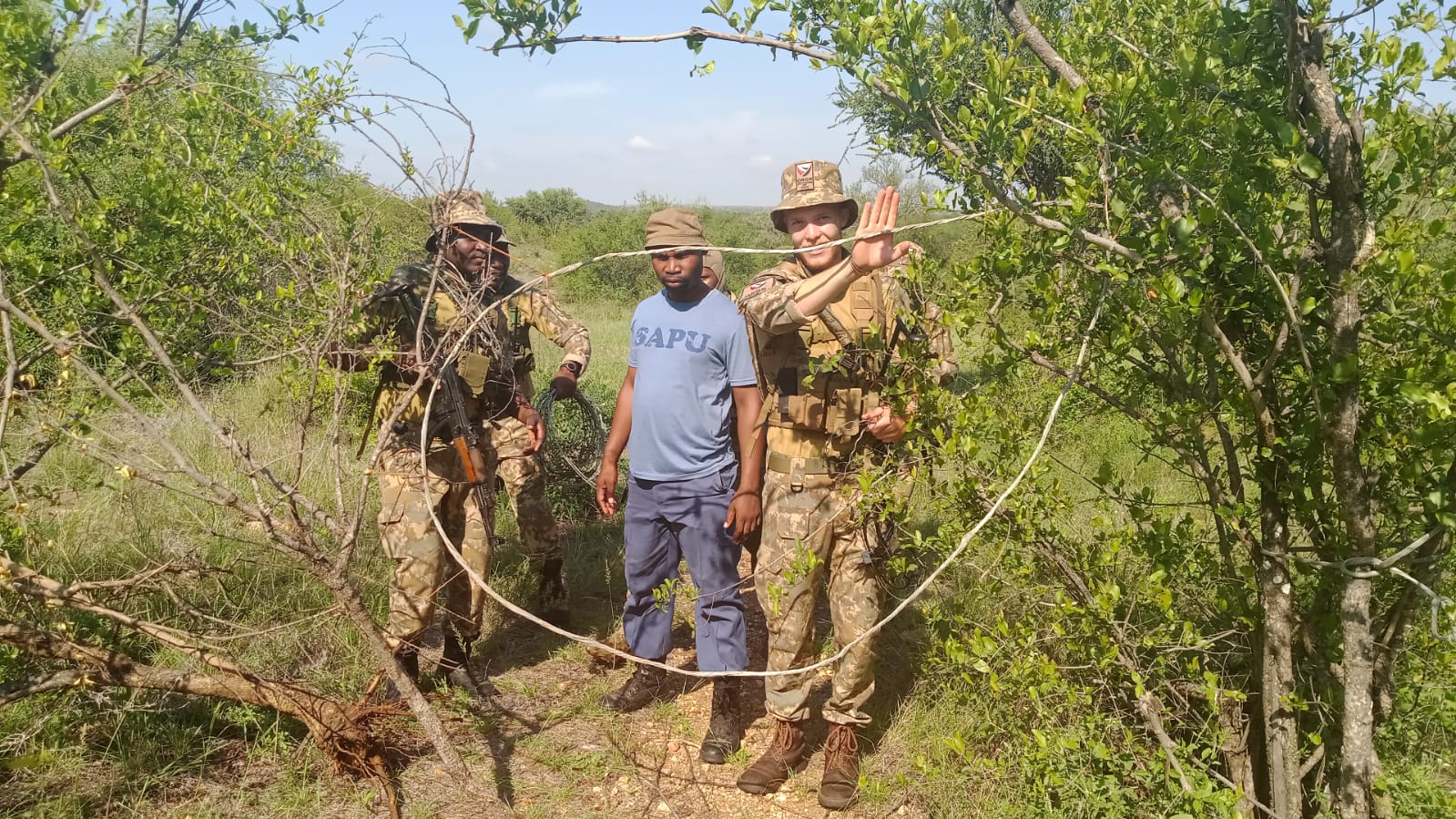 The team discover an illegal snare. © The Aspinall Foundation
The most important win for the day, however, was the fact that over 100 snares were destroyed, and a trapped impala was released. Snares are a brutal method of killing smaller animals in Africa but they can also cause permanent damage to larger animals such as elephant and rhinos, where they often lose limbs.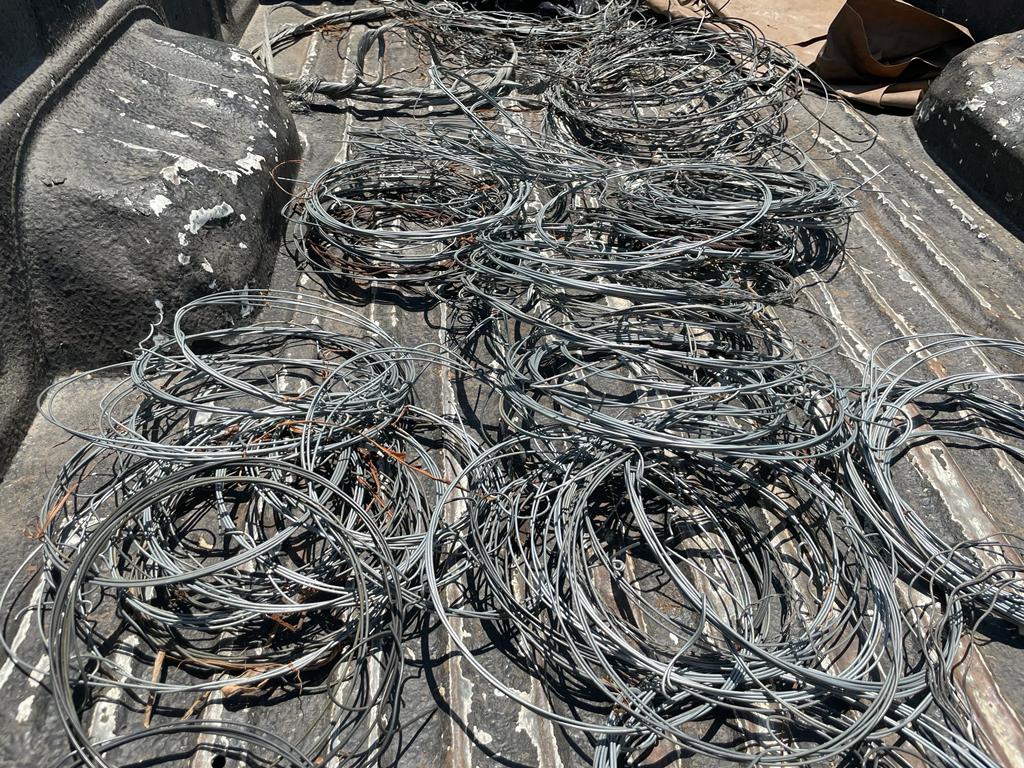 Over 100 snares were discovered, removed and destroyed. © The Aspinall Foundation
Seaview large-scale rescue mission
Autumn 2021 saw our team partnering with Wild and Free Wildlife Rehabilitation Centre, to help transfer a number of animals from Seaview Predator Park, near Port Elizabeth, which recently announced its closure until further notice. The closure followed the tragic death of a Seaview employee, who was attacked and killed by a tiger.
We found shockingly substandard conditions at the park. One of the lions had been badly injured in a fight with the other males and had to be removed under emergency conditions and operated on. He is now doing very well. Three other lions were removed along with him, and these beautiful boys are now safe and comfortable at Three Valleys Sanctuary, a reserve in Bathurst.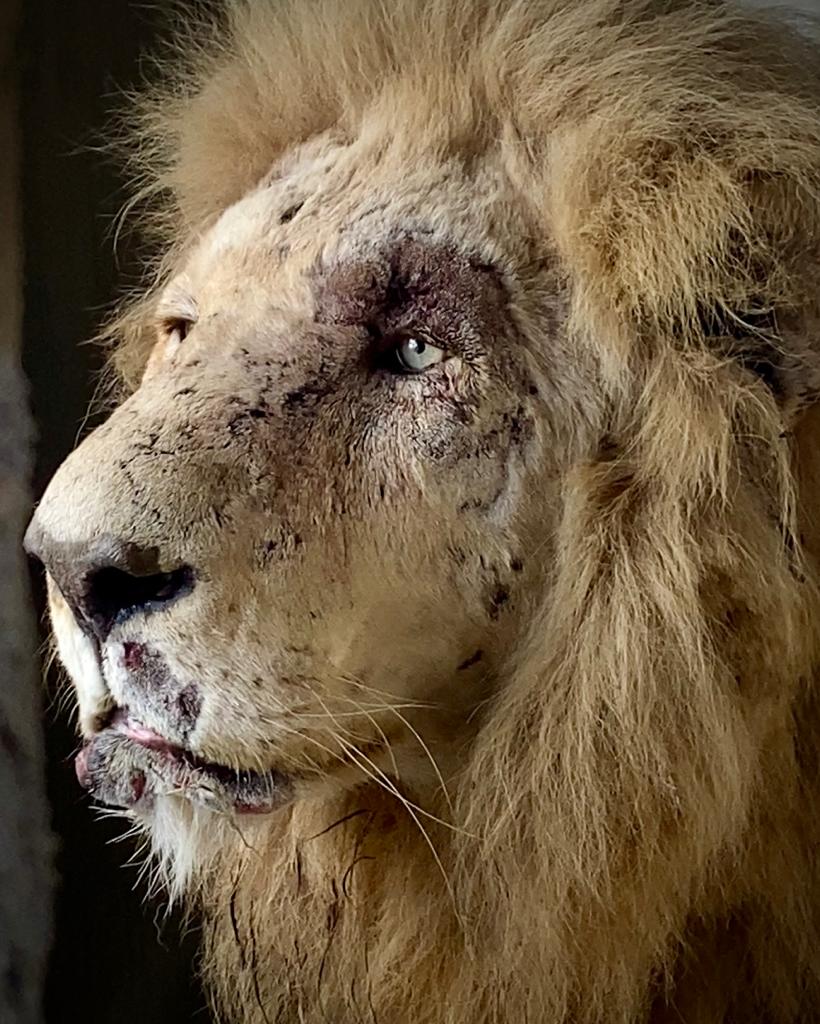 The face of a survivor.
The team also secured the life of a Siberian tiger and a stunning black leopard, named Shadow, from the park, again in partnership with Three Valleys. Without their support and significant investment, these incredible cats would not have had a second chance at life.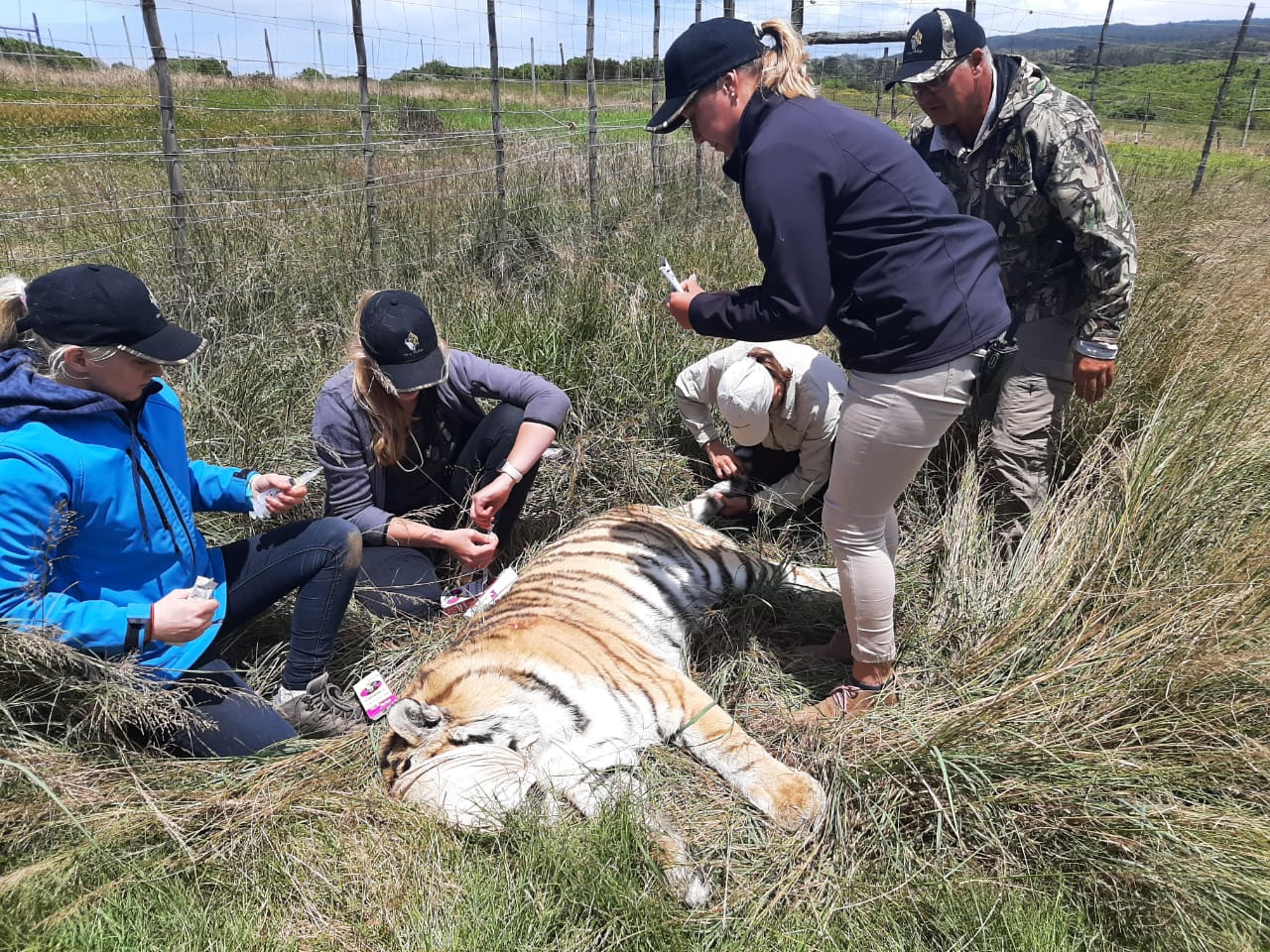 Siberian tiger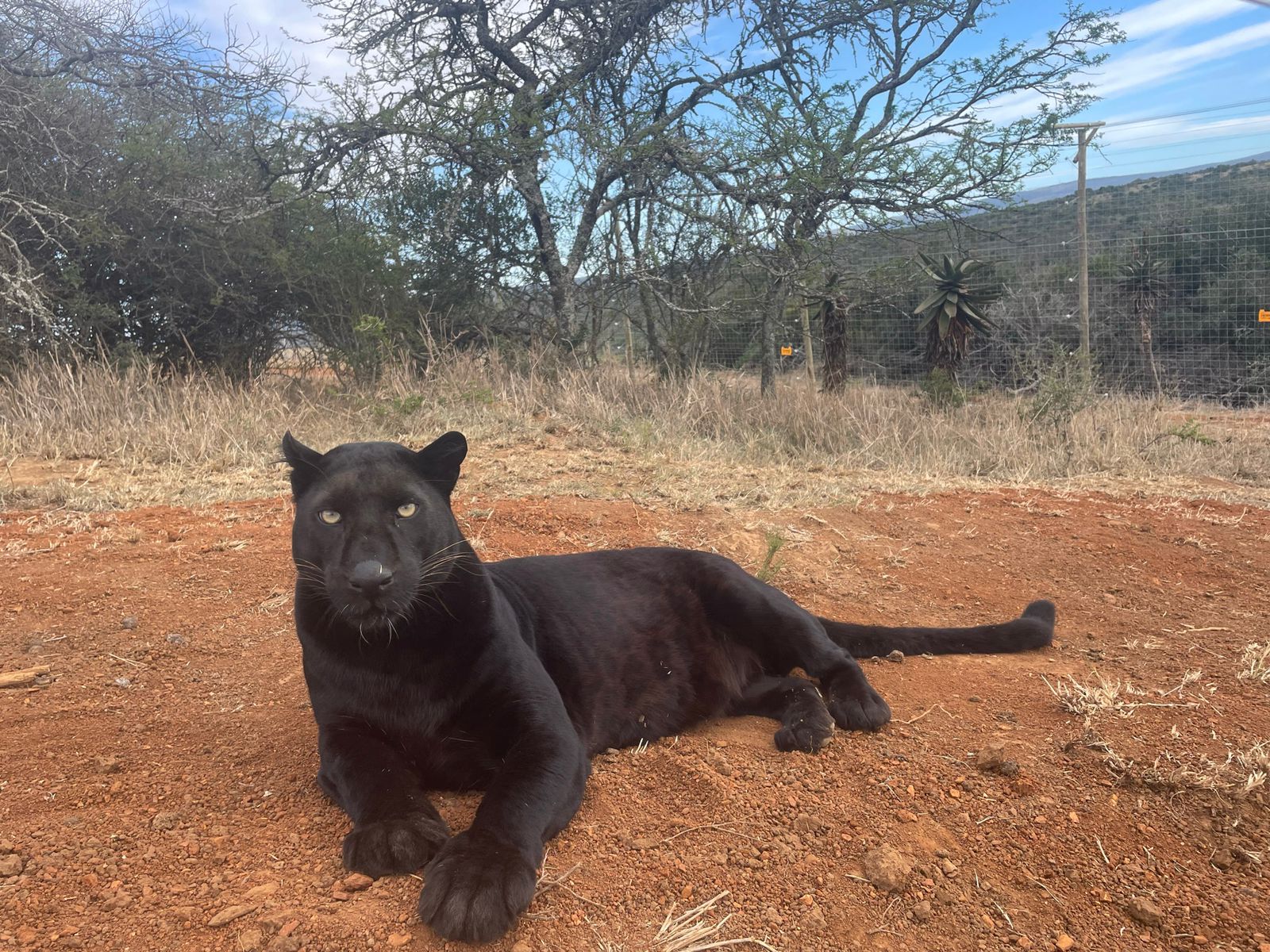 Shadow, the black leopard
Two black-backed jackals were moved to the Wild and Free Rehabilitation Centre in Hectorspruit – a journey of 930 miles, with a half-way stop for veterinary checks. Once the team are confident that they can be put back into the wild, the pair will be released with collars at Lionspruit Nature Reserve where they will be closely monitored by a full-time team.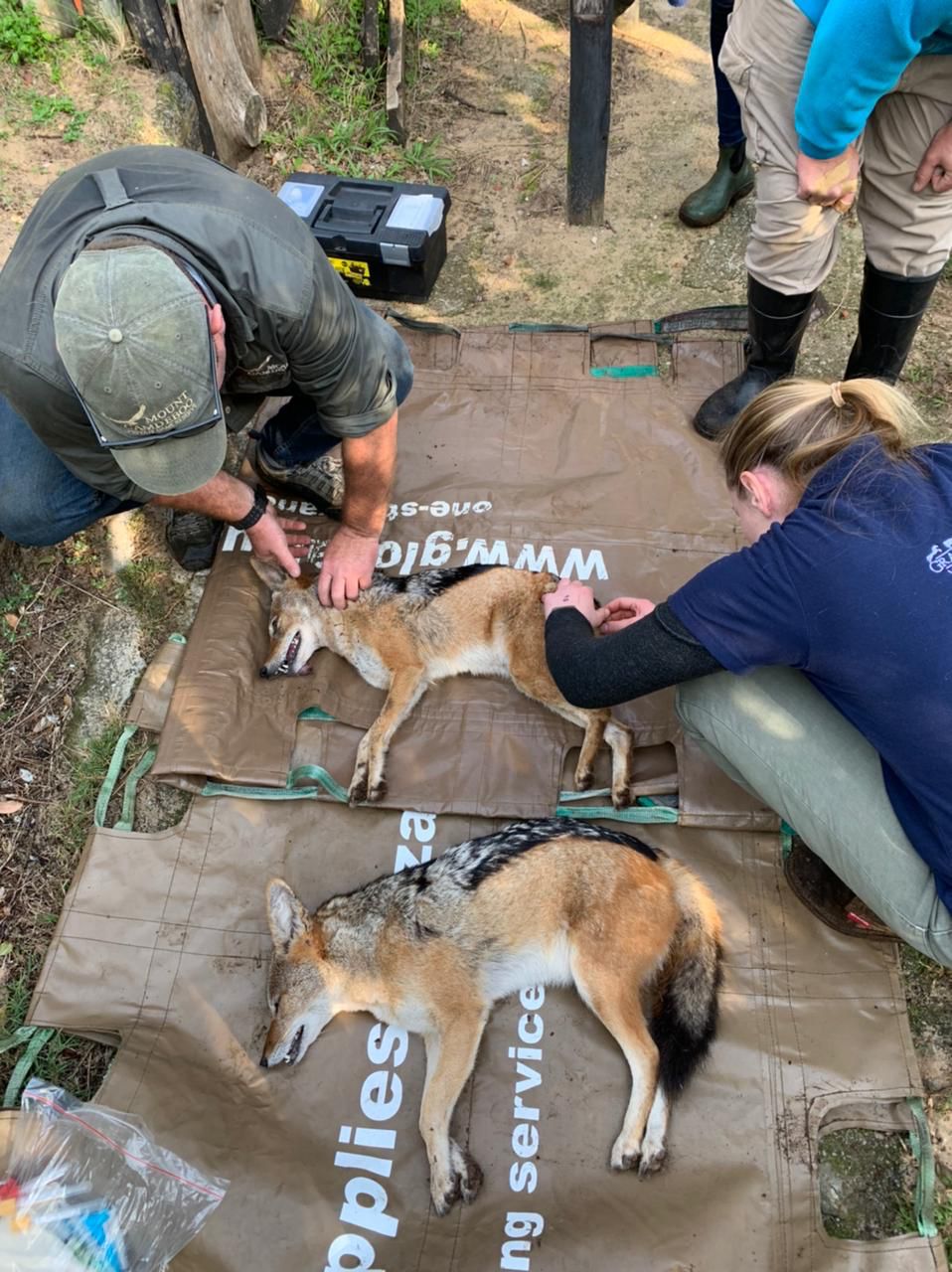 Black-backed jackals were sedated and checked over by the vet team
Seaview also donated two caracals for rewilding by The Aspinall Foundation. To facilitate the transfer, we partnered with Mount Camdeboo Private Game Reserve in the Great Karoo, the destination for these two beautiful, sleek wild cats. Joining these two animals on the journey was a four-month-old caracal from the Daniell Cheetah Project in the Eastern Cape Province, donated by the project for rewilding.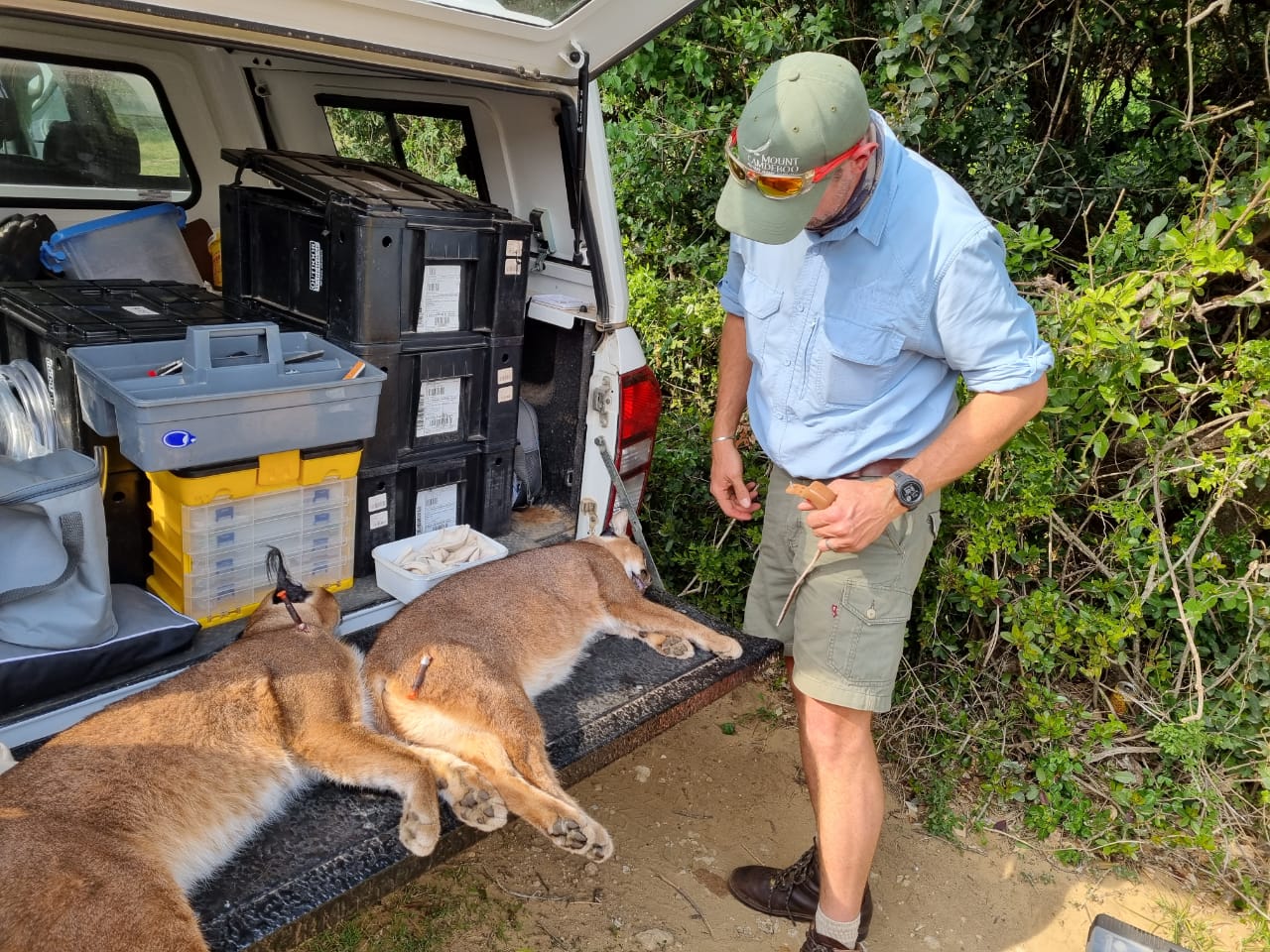 The caracals were sedated and checked over by the vet team ready for their move
With the assistance of partners Grahamstown Veterinary Clinic, all three caracals were moved to holding bomas on the stunning 35,000-acre private reserve, which offers the perfect habitat for these agile nocturnal hunters. They have since settled very well, bonded successfully and, once the expert team are confident they are able to sustain themselves in the wild, will be released onto the wider reserve.
We are hugely thankful to Annie Mears of the Grahamstown Veterinary Clinic for conducting the veterinary work for the Seaview mission, and to Greenleaf Solar Energy for support provided to make the translocations possible.
Black-Footed Cats
We are delighted to be working with the Mpumalanga Tourism and Parks Agency to protect and breed black-footed cats at the Loskop Dam Nature Reserve for future rewilding in South Africa.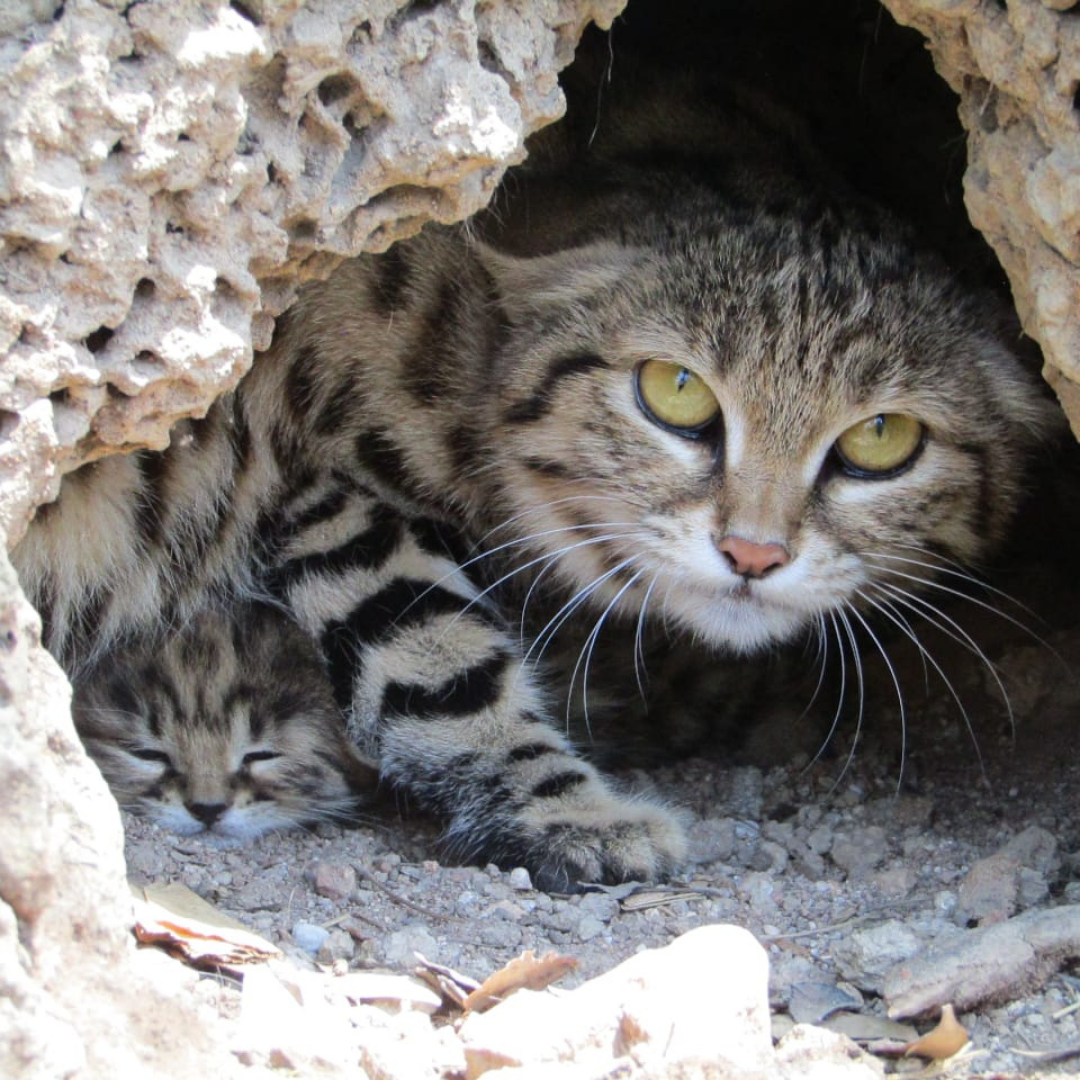 Black-footed cat
These extremely rare predators, classified as Vulnerable on the IUCN Red List, are Africa's smallest cat species, standing just eight inches high. Despite their diminutive size, black-footed cats are one of the most efficient predators on the planet, hunting with a 60%+ success rate and taking down a dozen small prey items per night.
The cats have just welcomed three adorable kittens, which we hope to rewild as soon as possible.
Our team recently found a female kitten wandering alone, its mother nowhere to be found, so it has joined our group at Loskop Dam, where it will be safe and well looked after. She had a minor eye infection, but has now been treated and is doing well.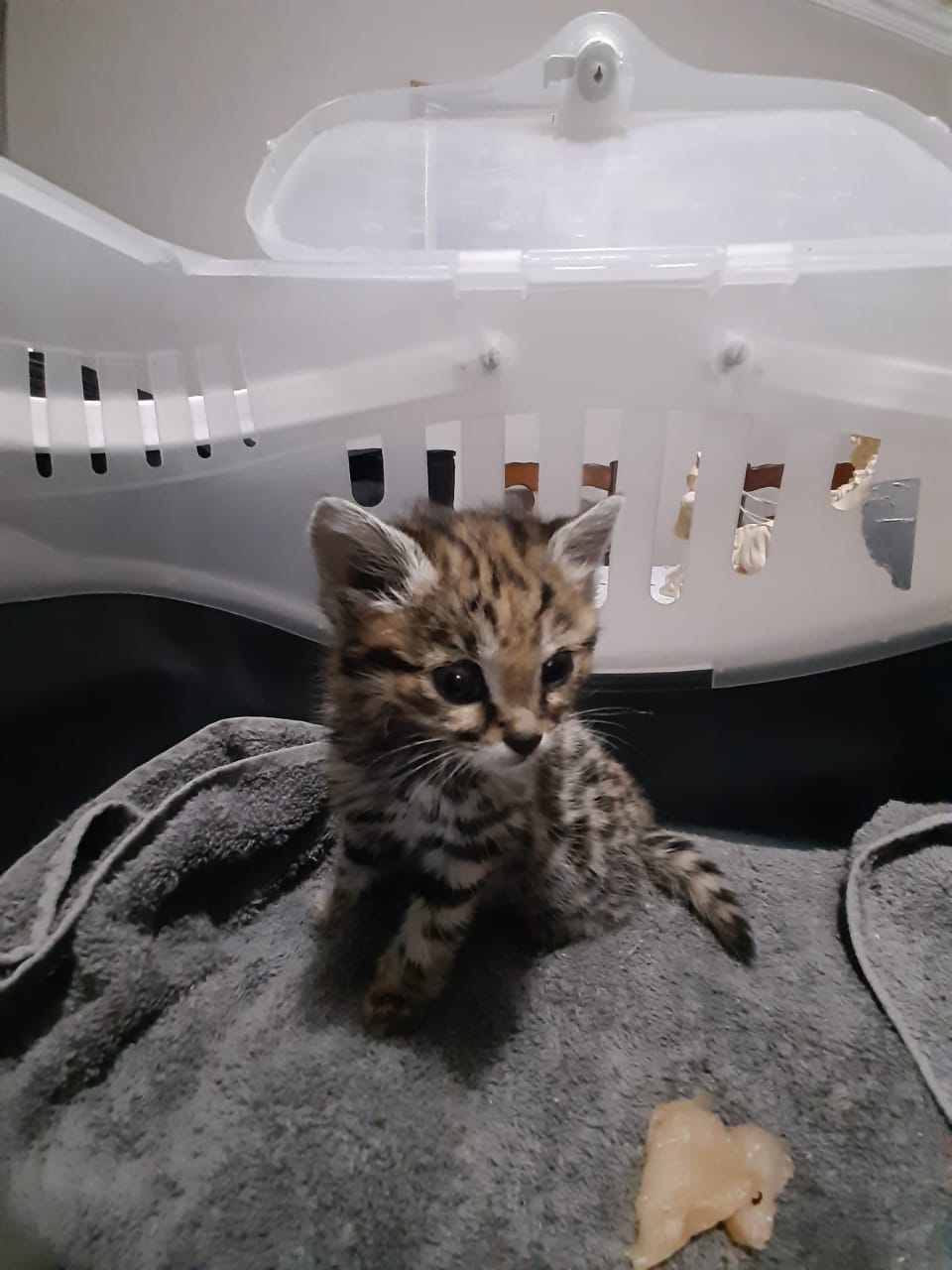 Orphaned black-footed kitten found wandering alone
We are absolutely thrilled that she has been saved and she will make a meaningful contribution to the black-footed cat programme and the further release of cats in the next year or two.
Planning ahead
Looking to the future, the team in Southern Africa will be working again with Wild and Free Wildlife Rehabilitation Centre on rewilding projects, finding release sites for large spotted genets and bush babies, amongst others. Continuing the Seaview mission, they have also been working on an exciting crocodile translocation. Watch this space!
Thank you to all of our supporters, who make this important work possible
Could you help us with our next daring wildlife rescue? Help protect threatened animals in South Africa by making a donation today.