As a regular supporter, you may have read many of our stories about Djala, a western lowland gorilla whose life epitomises so much of the work we do at The Aspinall Foundation. This year, he will reach the grand age of 40. On
the occasion of this stunning silverback gorilla's birthday, We would
like to celebrate his life by taking a look back at the events, both good
and bad, that culminated in his return to Africa and the continuation
of his bloodline with a birth in the wild.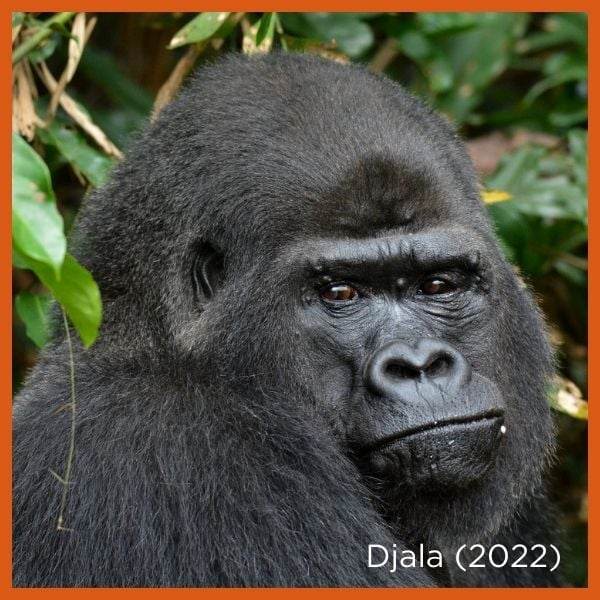 1982 – 1991 The First Decade
A Fight to Survive
In 1982, Djala was born in freedom. We have no idea how large his family
troop was, or how many siblings he may have had All we know is that he witnessed the slaughter of his entire family for bushmeat when he was less than one year old. The terrified infant, wounded in the stomach, was kept tethered to a stake until he was large enough to be worth killing. His fate seemed inevitable. Then he experienced a turn of luck. A French oil executive, flying over a small village in Congo, spotted children tormenting a small ape with sticks and stones. He immediately landed and purchased the infant for a few dollars. The young gorilla had plucked himself almost naked and was covered in sores and bruises. Fortunately, the man knew just the person to look after him, a French woman named Yvette Leroy. She took him into her care and named him Albin. The name of the village where he so nearly met his demise was Djala.
Yvette undoubtedly saved his life, but she also knew she would need to find a new home for him before he grew into adolescence. On a trip to France in 1984, she saw a documentary on the work of John Aspinall and, having visited Howletts and assured herself it would be a suitable new home for the now boisterous youngster, the preparations for an animal transfer were made. Within months, Djala, as he was renamed, was in the UK. Thanks to the keen observations of John Aspinall, the gorillas at Howletts lived in groups, mirroring the troops of their wild counterparts. Soon, Djala was integrated into a group headed by silverback Kijo. For the first time since the destruction of his own family, Djala was able to experience the support and companionship of his own species. He began to flourish – the hair plucking stopped and he was soon weaned off the medication for his joints with no recurrence of the problems.
1992 – 2011 The Middle Years
A Time For Family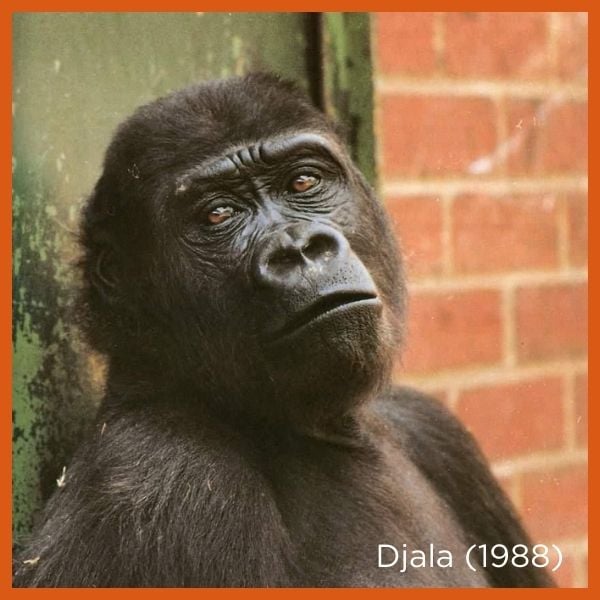 By 1992, the young adult Djala was settled at Howletts, living in a group of five females and another male orphan from Congo. He was the alpha in the group, but he soon lost interest in his females, allowing the younger silverback, Kouillou, to mate and father babies in 1993. That same year, Djala was moved to Port Lympne. It was thought he may remain non-breeding and live in a bachelor group there. As it turned out, that assumption was wrong. Not only would Djala's wild-born genetic line soon be introduced into a Port Lympne gorilla group, but he had already fathered his first male infant whilst at Howletts. After paternity tests were carried out on the two youngsters born into Kouillou's group, it was discovered that Djanghou, born in December 1993, was Djala's first son.
Djanghou remains at Howletts to this day where he heads his own family group. In many ways, Djala settled well into his life in Kent. Yet he never truly forgot his own past and the trauma he experienced as an infant. Visitors to the park would sometimes witness some of his deep-rooted memories when he would throw anything resembling a stick in their direction. Our mission to halt the extinction of endangered species and return animals to the wild whenever possible had already seen gorillas repatriated to Congo and Gabon. No gorilla could have been more deserving of a chance to live in the wild than Djala.
2012 – 2021 The Last Decade
A Chance to Live in Freedom
By 2012, Djala had fathered 14 surviving offspring and his wild genetic bloodline was integrated into captive collections both in the UK and overseas. He was 30 years old and, if he was to have the chance of returning to the wild, the time was right. Extensive preparations were made for Djala and his group, eleven in total, to make the journey to our Gorilla Protection Project in the Batéke National Park in Gabon. In June 2013, the gorillas left Port Lympne on their 5,000-mile trip to Africa. The move went well, and the family group initially settled into their new life. Sadly, about one year after their arrival in Gabon, tragedy struck when a number of the group died. A definitive cause was never established, but it was heart-breaking for everyone involved in the project.
Fortunately, Djala remained in good health, as did his daughter Mbwambe and his son Djongo. All three continue to live in freedom. Mbwambe was moved when she reached maturity. She was introduced to Rafa, a male wild-born orphan, and they have stayed together now for several years. Djongo, who initially remained with Djala, has grown into a stunning silverback and, in 2021, after mating with a repatriated captive-bred female, the pair produced a female infant – the first wild-born gorilla in the world born to captive-bred released parents. Djala, as he reaches his 40th year, is still a beautiful silverback. He continues to live in the wild, close to his son and the latest addition to his family line.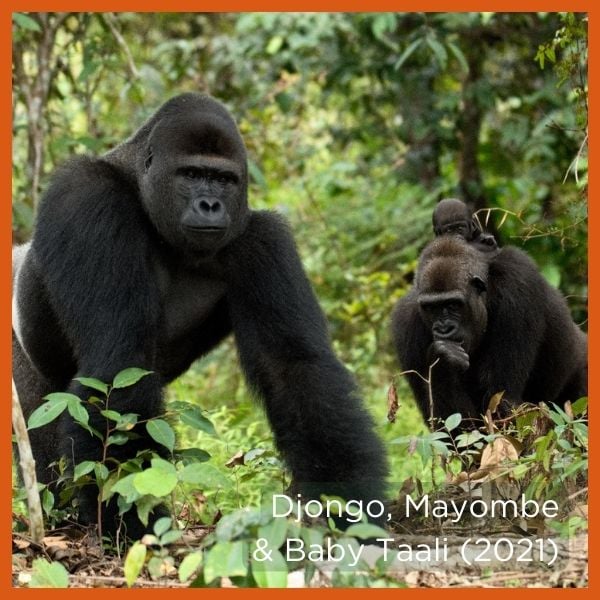 He has experienced a complex life; his dislike of humans easy to understand given the pain and loss he endured at such an early age. Yet he has also received care across the years. Our team in Gabon continue to monitor him daily. The average lifespan for a western lowland gorilla in the wild is 30-40 years, a few years more in captivity. Whatever the future brings, Djala will live in freedom, in the wild, with African soil at his feet and two generations of his family sharing his forest home.