The European bison, the largest living land mammal on the continent, is slowly returning to the Carpathian Mountains in Romania for the first time in over 200 years.
Given our mission to protect and return endangered animals to a life in the wild The Aspinall Foundation is delighted to be part of the reintroduction project at Vanatori Neamt Nature Park (VNNP), working alongside Sebastian Catanoiu, Director of the Park, and Razvan Deju, the national coordinator for European bison reintroduction in Romania.
It is exactly five years ago that a group of six female European bison left the UK for a life of freedom in the forests of Romania. Three came from our parks at Port Lympne and Howletts, two from Fota in Ireland and one from the Highland Wildlife Park, Scotland.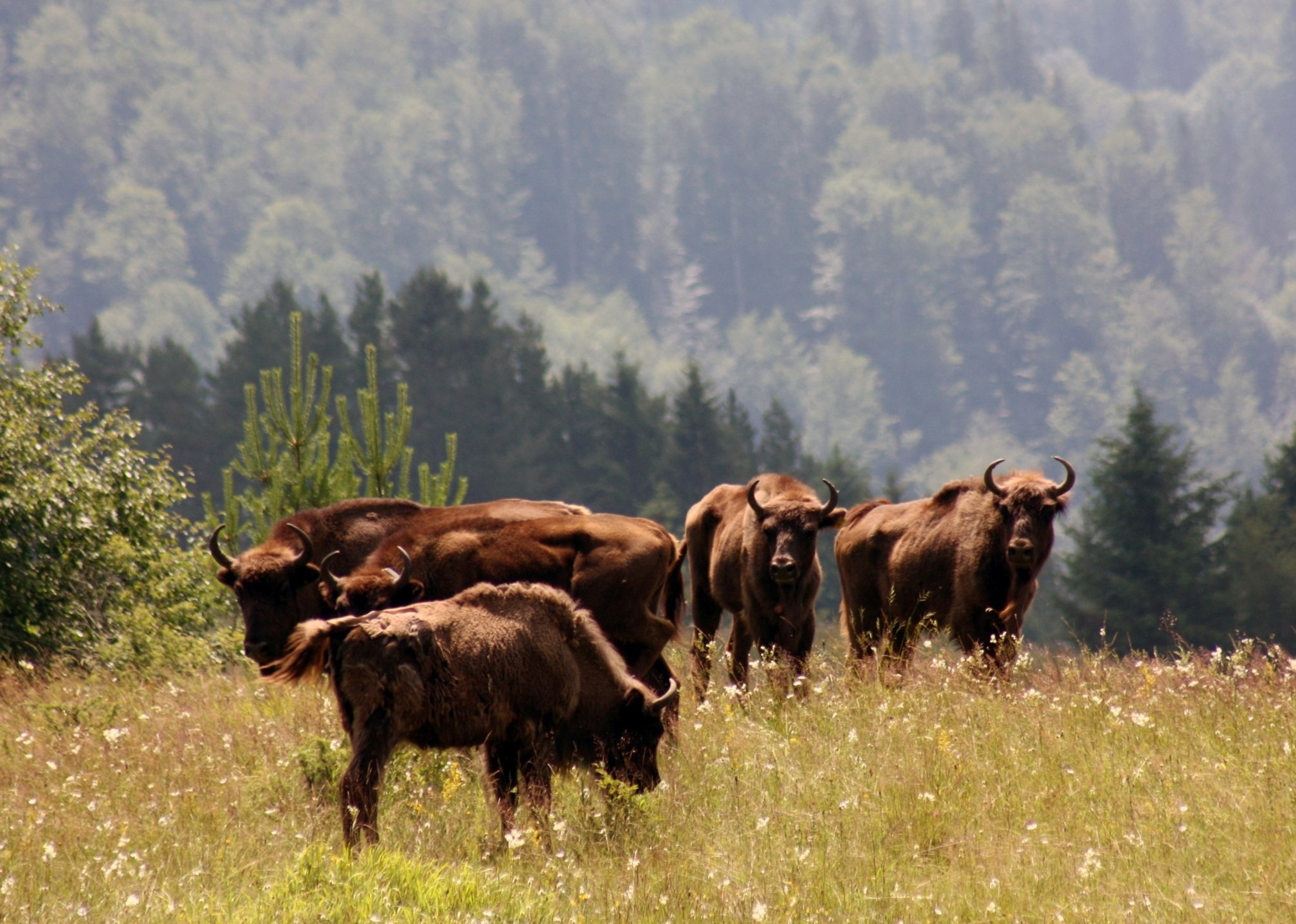 Hunted to extinction in the wild, the last known free-ranging animals were shot in the 1920s. If it hadn't been for a successful captive breeding programme co-ordinated across participating zoos and wildlife parks these magnificent animals would have become extinct. At the time there were only about 50 captive bison from just 12 founding ancestors, and careful management of the breeding population was essential to build back a degree of genetic diversity.
The six females from the 2014 release stayed together, and were joined by a released bull from the winter of 2016/2017. He had previously spent time with the group during the winter of 2015/2016 but stayed permanently following the birth of five calves in spring 2017. The sixth female had a calf in spring 2018. All six calves are doing well today, and the bull is still with the group, although sadly the largest adult female died in February this year. The group is therefore confirmed to be twelve strong, but we have received, as yet unverified, reports that a further three calves have been born this year. We anticipate there may be another one or two more calves before the end of the season.
In total in the VNNP, 30 bison have been released between 2012 and 2019 and 16 births have been confirmed, with the new arrivals from this year yet to be counted in the figures. The females from the UK have accounted for between a third and a half of the births in the reintroduced population to date, proving them to be a successful contribution to the project.
Reintroductions such as this are at the heart of the work carried out by The Aspinall Foundation and we thank all our supporters for helping to make success stories like this possible.