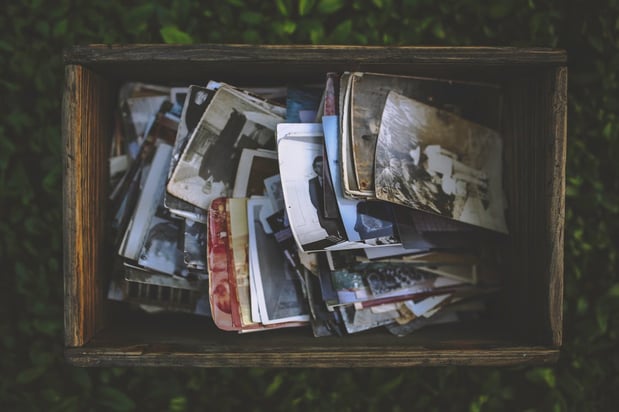 No matter how digital our lives become, there'll always be physical reminders to treasure, reminding us of special moments.
Be it a smell, how something feels, a letter, postcard or keepsake, there are a wealth of things that we feel a connection to and want to keep hold of to look back at in years to come.
One of the best ways to keep those precious things together is a memory box. Not sure where to start? Follow our handy guide to keep those little reminders of happy days safe and in one place!
Choose your box
You may already have a box that evokes memories which will be perfect to keep your items in – if not, it's really easy to make one. A shoe box is a great size, easy to store away and you can cover and decorate it to make it special. Alternatively, you'll find a lot of crafty people on the web selling beautiful ready-decorated boxes. Sites like Etsy have lots of choice, so you can pick a box design that reflects your personality.
Make it personal
This isn't for other people, it's all about you. If you do plan on sharing the contents with your children later on, it still needs to reflect you as a person, not as mum or dad.
Choose carefully
You don't want a wardrobe full of memory boxes because you've kept everything! Choose wisely. Photos are always good, as are old mix tapes (it might be worth keeping an old Walkman in there too if you have one…) or CDs. Holiday souvenirs, postcards or letters from your partner or parent that mean a lot to you, homemade cards from your children – think about what you'd save from a fire. That's what you want to include.
File things
Some of the things you keep in your memory box, you'll instantly recognise who or where it's from and what memory it brings back. But will that always be the case? In 10, 20 years the memories may fade a little. Don't be afraid to include little labels on some things, just to make sure you can recall the special moment that brought it to you.
Keep it handy
The whole point is that you can get your memory box out and look through it or add to it. Don't stuff it out of the way somewhere inaccessible. Keep it close to hand so you can flick through the contents and enjoy them when you're having a quiet moment to yourself.
Now that you're thinking about your memory box, why not make it a family project and get your children to start off their own memory boxes, too?
Family makes some of the best memories. Are you making great memories with yours? Take our quiz – How Connected Is Your Family?