If you are a fellow supporter of Howletts Wild Animal Park, you certainly know that in the African elephant herd at Howletts there are three little boys who steal everyone's hearts at first sight! We are talking about Nusu, Oku and Nguvu! For those who don't know much about them, we've put together a guide about these three boys and fun facts you maybe didn't know, including how to tell them apart, which is tricky!
🐘 Nusu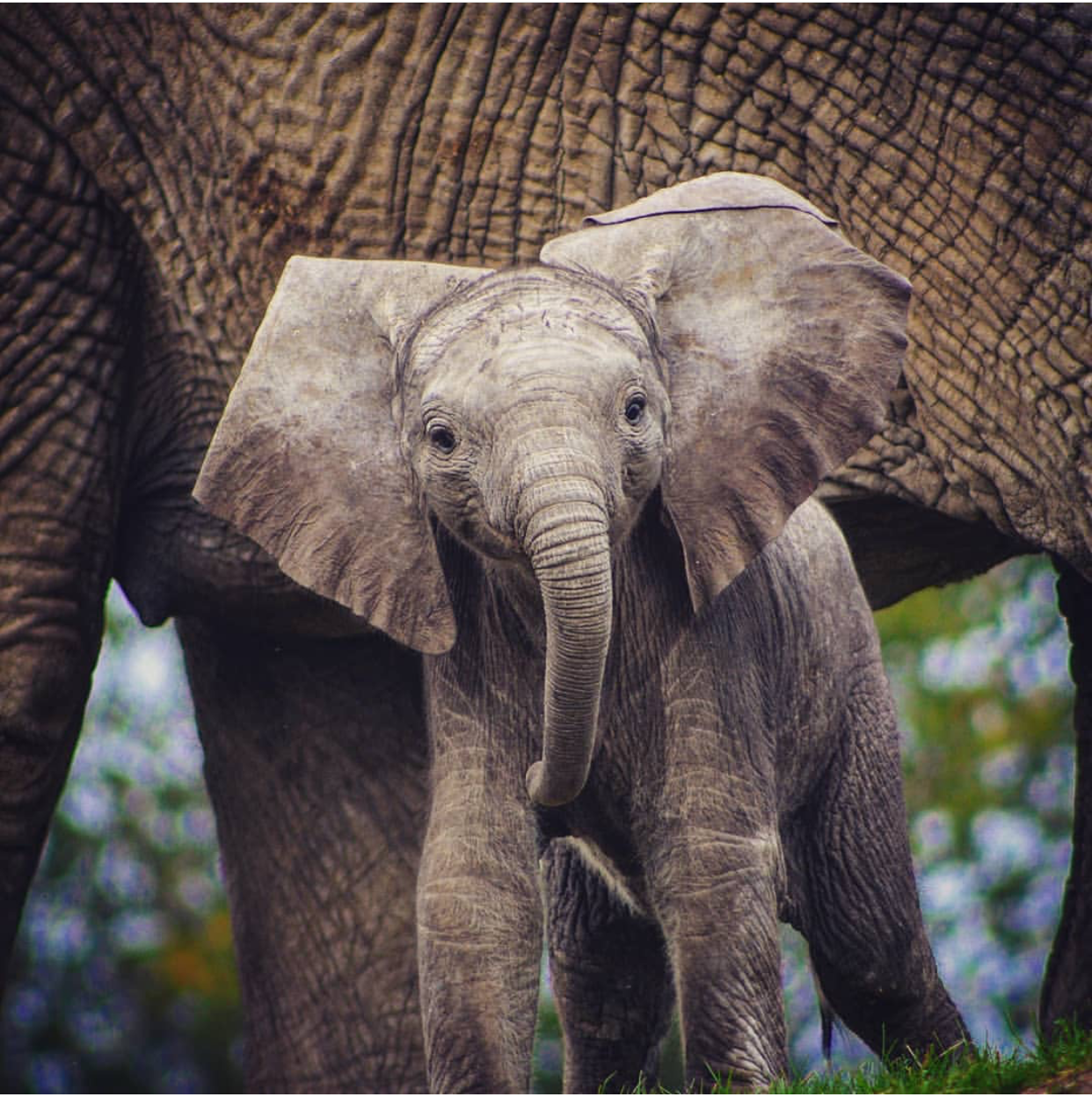 Gender: male
Date of birth: 10.09.2018
Dad and mum: Coco and Jama
Weight: 866kg


According to our keepers, Nusu is the most mischievous of the elephants! He was named after a naughty little elephant in Kenya because it seems he was born naughty and ran rings around his mum and the keepers when he was little. So much so that he also earned the nickname "Naughty Nusu". He mostly enjoys spending his time playing with Mirembe, Oku and Nguvu and when it is hot he enjoys spending time in the pool and mud wallow with his mum Jama and Mirembe. Fun fact: Nusu doesn't like bread, which is unusual, but he loves carrots and, as a very occasional treat, he enjoys some peanut butter which our keepers spread around the houses and paddocks for enrichment.
🐘 Oku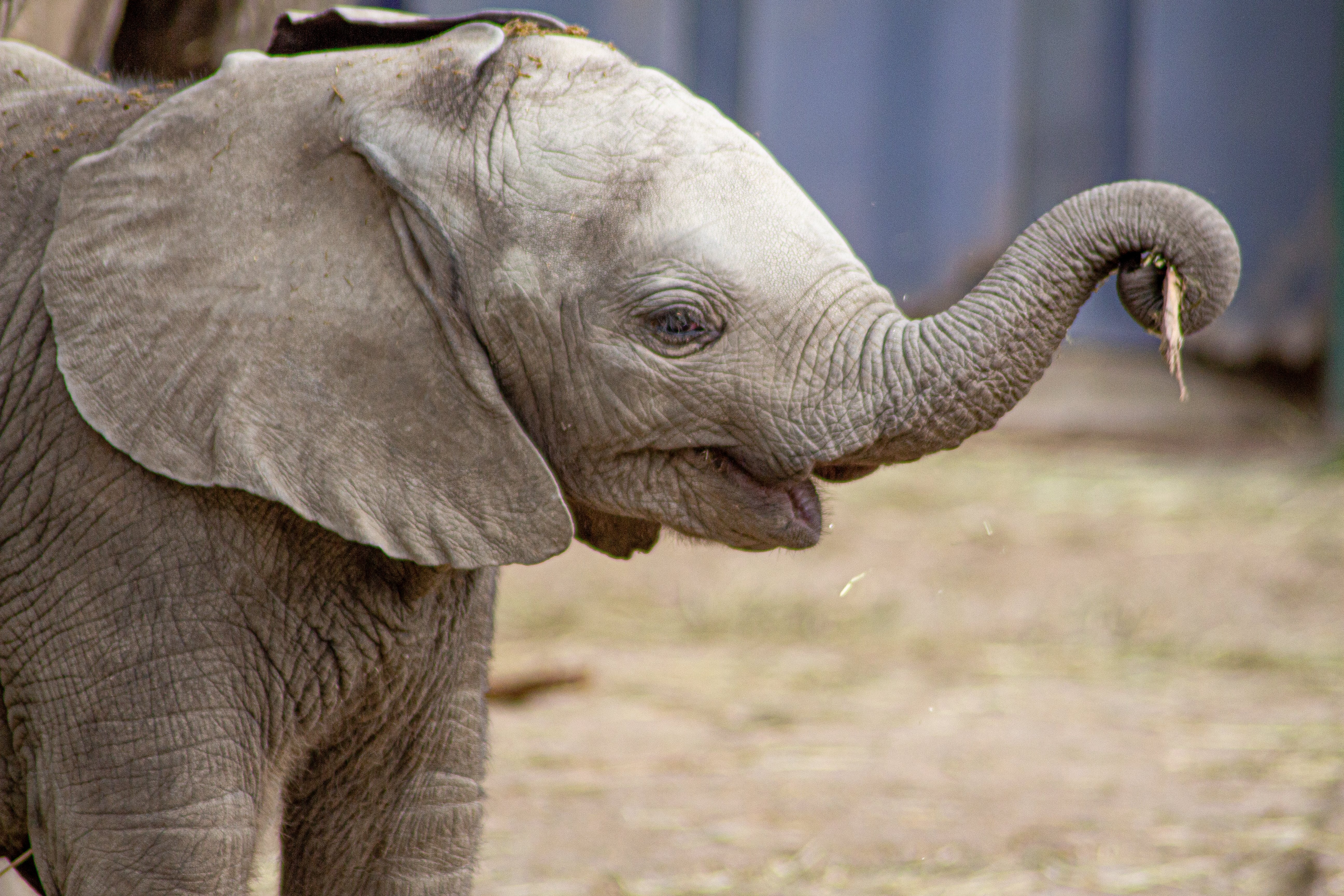 Gender: male
Date of birth: 01.12.2019
Dad and mum: Coco and Uzuri
Weight: 480kg
Oku is named after a mountain and lake in Cameroon. He is better behaved than Nusu and loves spending time with his aunties: Manzi and Juluka. He also enjoys playing with Nusu and Nguvu. Fun fact: Oku is not a fan of the rain and would much rather stay indoors or hide under mum Uzuri than go out in it!

🐘 Nguvu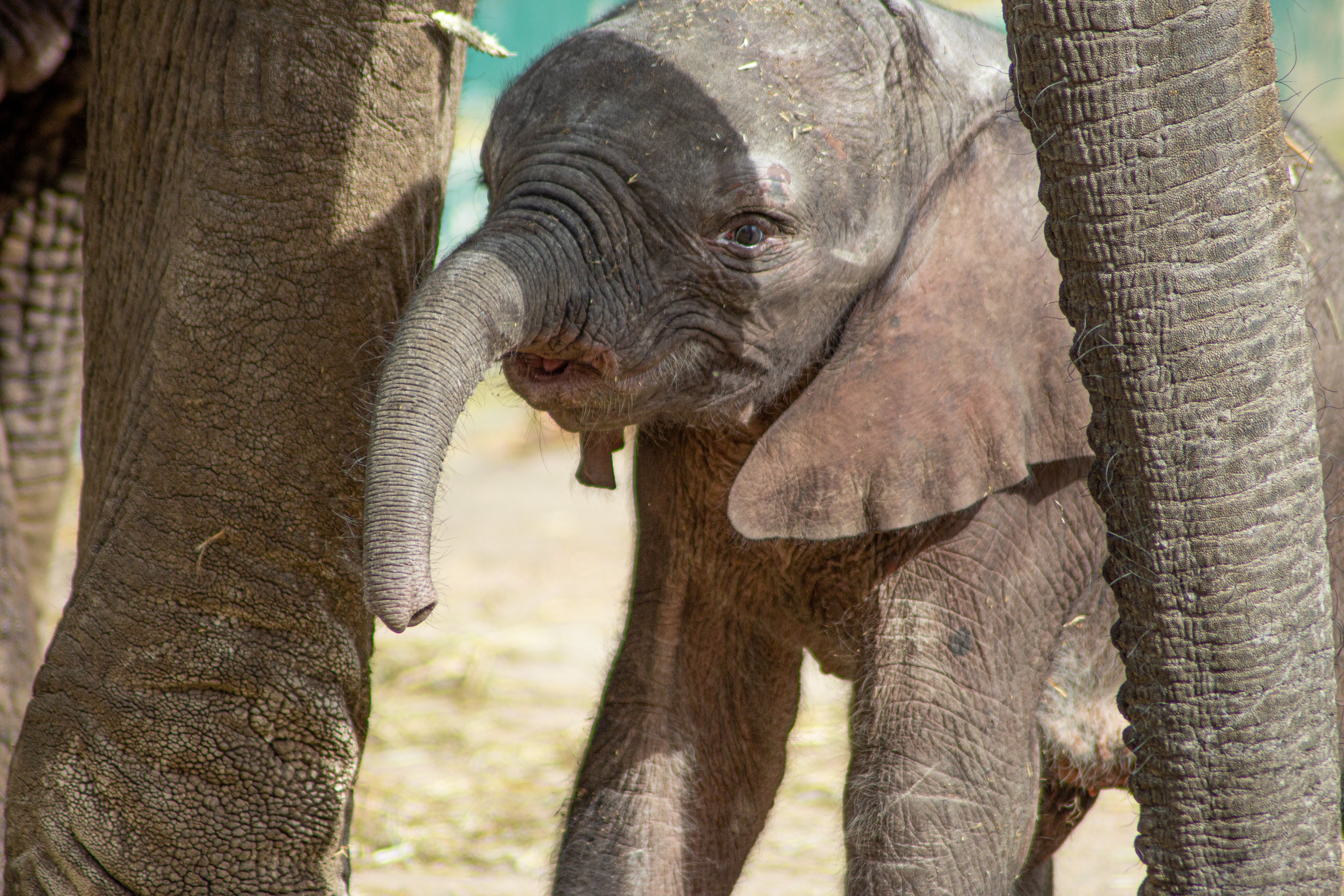 Gender: male
Date of birth: 07.03.2020
Dad and mum: Coco and Etana
Weight: 436kg
Nguvu's name means "strong as a rock". He is the youngest of the three but makes up for it when charging at Oku and Nusu! Nguvu loves spending time playing with them. Fun fact: he enjoys kicking barrels and throwing sacks around.
How can you tell them apart?
Nusu has a very distinctive forward fold along the top of his left ear.
Oku has perfect, symmetrical ears that meet at the top of his head.
Nguvu's left ear has a slight backward fold at the top and the edges of his ears are not as neat as Oku's.
What's their favourite food?
The three boys are all still suckling so milk is probably their favourite. They do enjoy their "elephant cubes" but, like the adults, browse is their preferred food. They love birch, willow, hazel and hawthorn best. Sometimes their keepers plant "bamboo forests" in the sand and they enjoy running through these and knocking the bamboo stems down.
Even if Nusu doesn't like it, the rest of the herd like bread and they all love carrots.
Meet the Keepers

There are 7 keepers taking care of the African elephant herd: Natalie, Courtney, Ross, Adam, Jamie, Rhianna and Madi. Let's meet two of them:

Natalie
Working at Howletts and Port Lympne since 2008, what she loves most about elephants is how emotionally intelligent they are and what cohesive bonds they form as a group. It's also interesting for her to see what individual characters they develop and how playful they are, even as adults. She loves cute elephant babies! Her specialist subject is elephant teeth, she said "They are fascinating – did you know they have milk tusks?!"

Courtney


Working at Howletts since 2018, what she loves about working with the elephants is how different they all are, as they all have their likes and dislikes and some are a bit more cheekier than others (like Mirembe and Nusu). She also loves to work with such a big herd as she gets to see a lot of natural social behaviours between them and of course working with 3 baby elephants is never a bad thing! She said "I have been very lucky to be here as all three babies have grown and watch them get up to mischief along the way!"
Courtney carries out a foot study on all the elephants at Howletts and can sometimes identify an elephant by the photos of their feet! She also does a monthly dung study on some of the elephants to measure the fibre lengths, this is so we can track how well they are chewing their food and maybe when they will be coming into their next set of teeth.


Tragically, last week the African savannah elephant species has been re-listed by the IUCN as Endangered, while before it was considered Vulnerable. This means that the numbers are still declining. Sadly there has been a significant change due to severe population declines over the last 50 years.
Help us to protect this magnificent species by adopting Nusu the elephant from £25 or buying an Elephant Care Package for £15.