A day out at Howletts Wild Animal Park is not complete without a visit to our western lowland gorilla family. Gentle giant Ebeki, the silverback, leads his group of four females; Dihi, Juma, Shumba and Emmie, plus young male Ikebe and hand-reared Yaoundé, who recently joined his little family.
Meet some of the family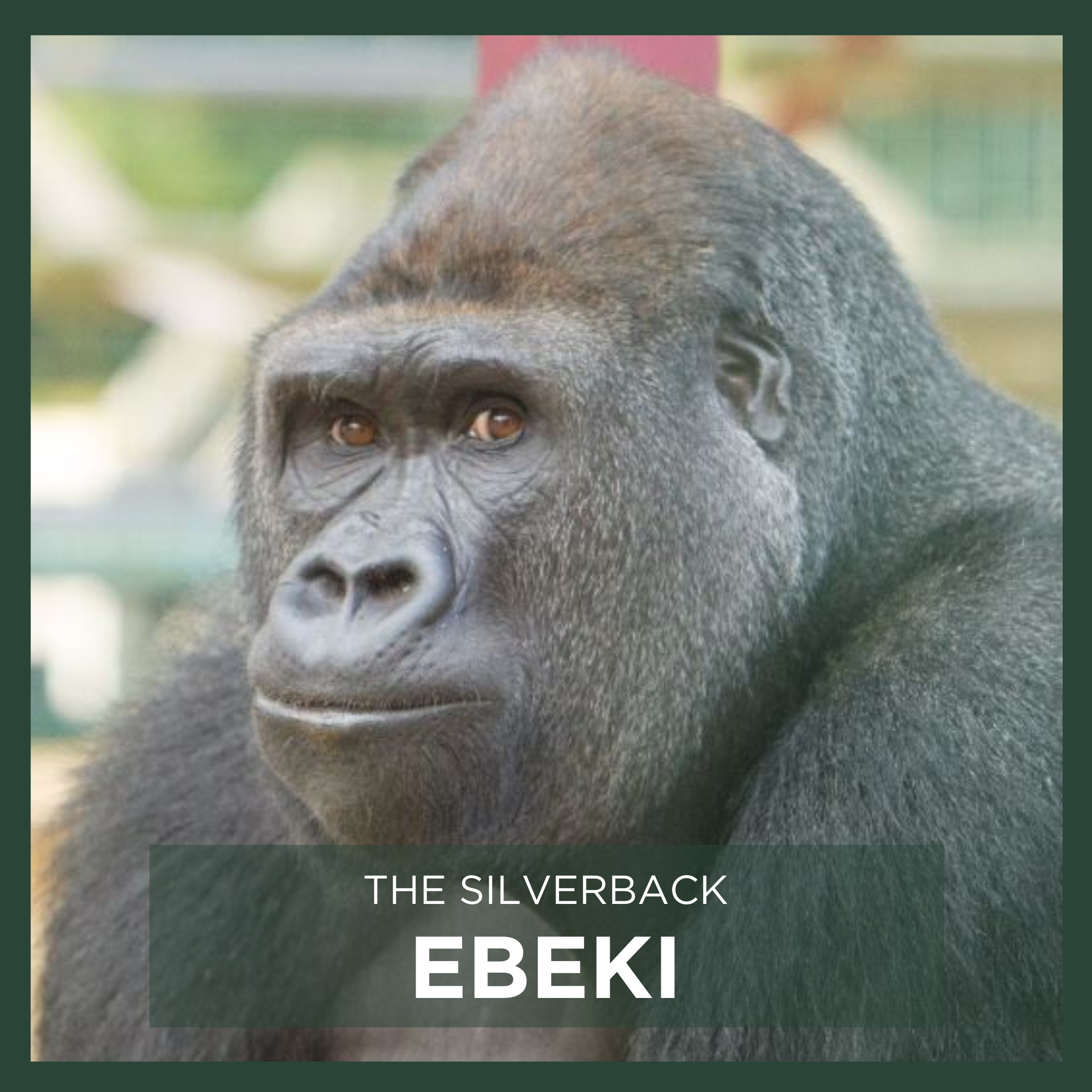 Ebeki is a gentle individual, who takes his role as the silverback very seriously. He does have a lighter side too, on occasion he can be seen playing and laughing with the little ones in his group.
Ebeki was born in May 2003 and having been successfully reared by his mother in a large social group, he had the makings of a well balanced male. When he came of age he was given the responsibility of running an already established, albeit leaderless group. Despite his inexperience as a leader, he learned quickly, he had to impress, but not go over the top. To make his job even harder there were two younger males in his new group from the previous silverback. He had to play a very political game as their mothers were some of the females he was trying to win over.
When the time was right the two younger males were taken out of the group and Ebeki really settled into his role and has developed into a fine, if a little highly strung young silverback! He has also proven himself as a breeding male - his first-born, Ikebe is now three years old.
Ebeki's kind nature has really shone through with the introduction of hand-reared Yaoundé to his group - a big ask of any Silverback, but once again, he has proven himself an exemplary surrogate father! He's very protective of her, always keeping an eye on her and comes to her aid if she screams!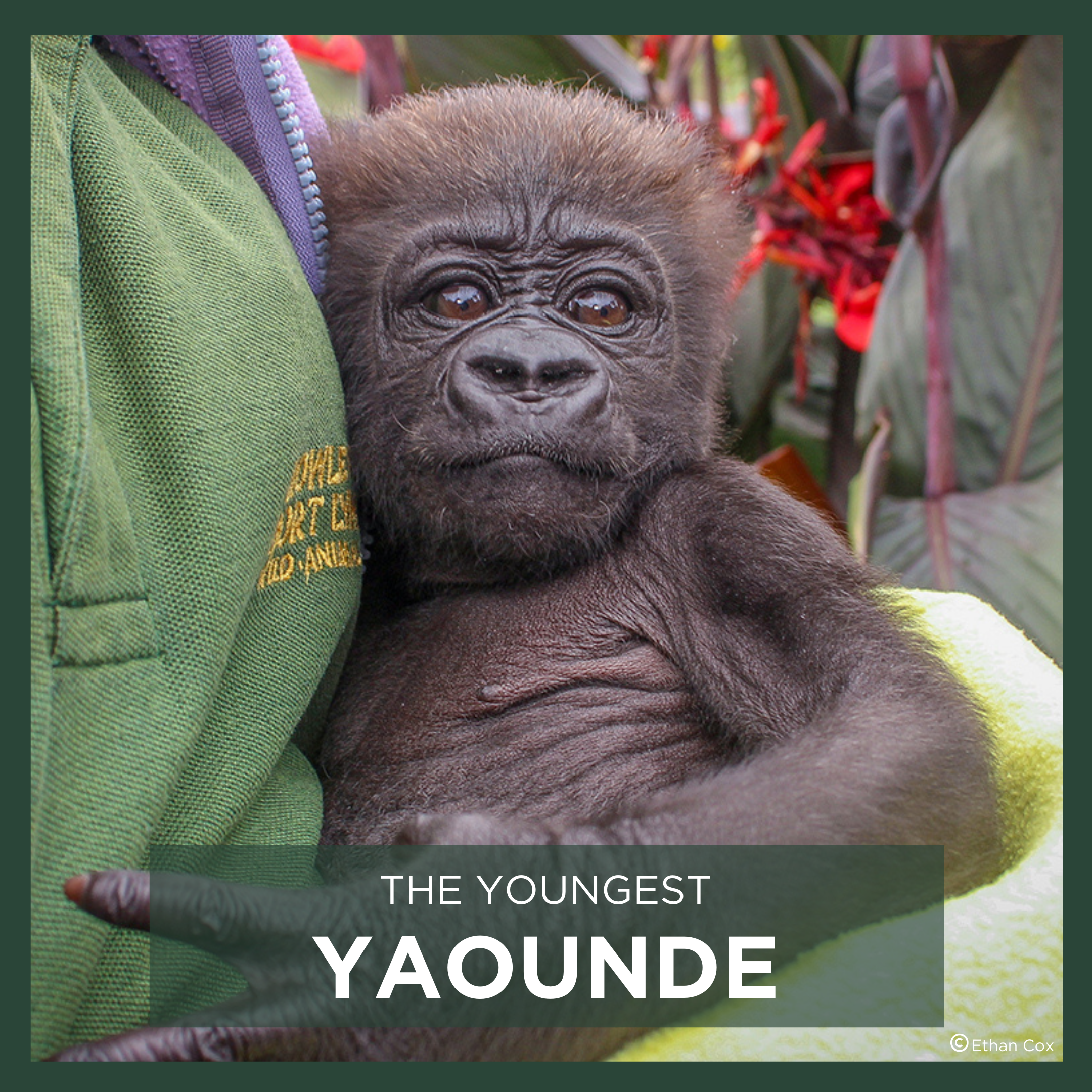 Yaoundé had a rough start to life. Born at least 6 weeks premature in June 2019, she was rejected by her mother, Masindi. Weighing just 1.04kg, she was so tiny she could fit in a single adult hand (the average baby gorilla is between 2-2.5kg at birth!). Being premature, her digestive system wasn't fully formed and she was unable to regulate her own body temperature. It was immediately obvious that if she was to survive she would need to be hand-reared. Our dedicated team of expert gorilla keepers worked tirelessly around the clock. Initially her tummy was so sensitive and she was so small she only managed a few mls of formula at a time and it had to be given a drop at a time by syringe as she couldn't manage a bottle.
Throughout the process of hand-rearing Yaoundé, we kept her around the gorillas as much as possible, so she could learn all the important gorilla behaviours.
Her mother continued to show no interest in her and neither did anyone else in her natal group. At this point we started taking Yaoundé to meet gorillas in other groups around the park and after a while an obvious surrogate emerged, Shumba, her great grandmother!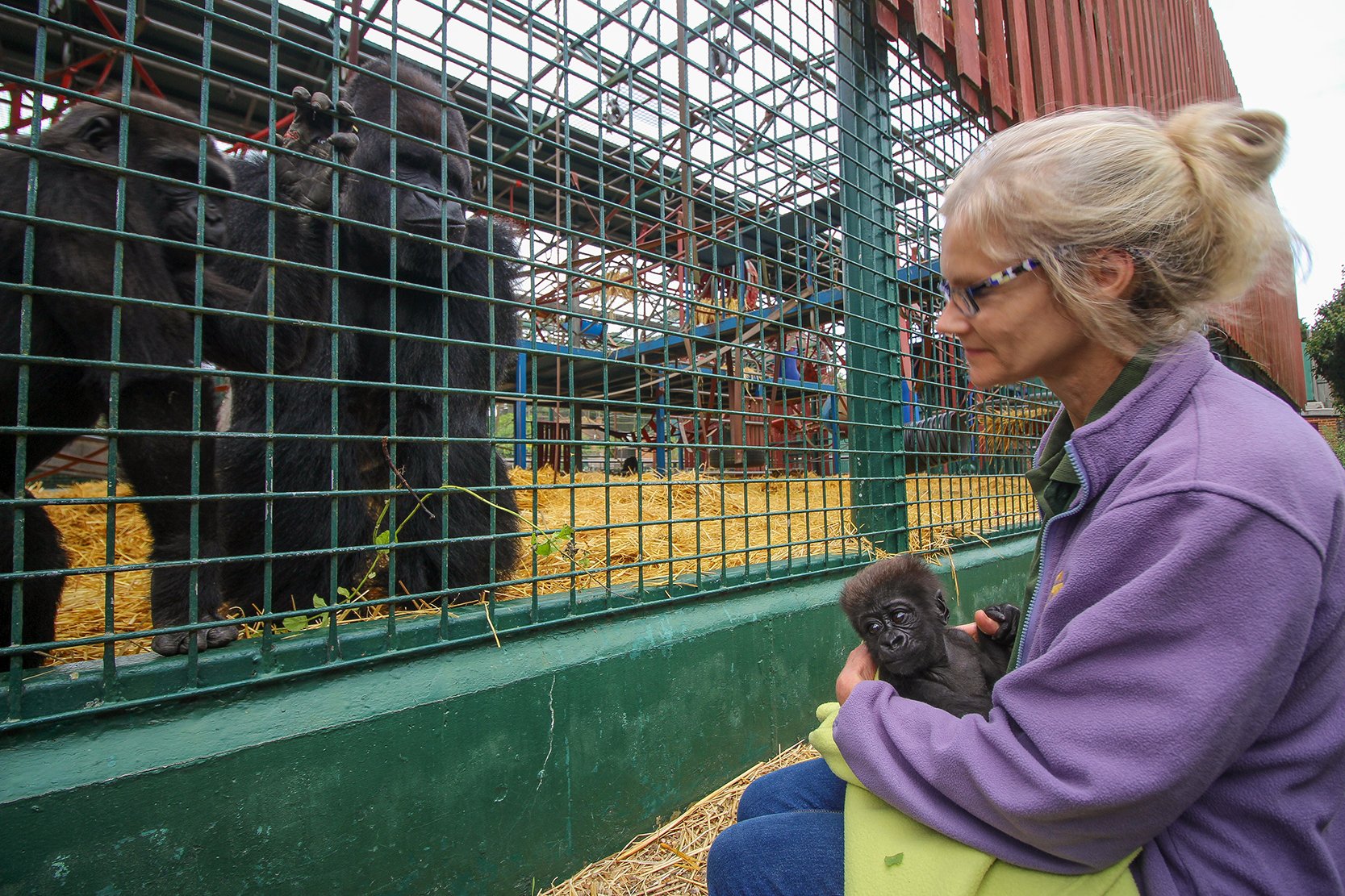 Head gorilla keeper, Lorna Wanless introduces baby Yaoundé to her great grandfather, Djanghou and her aunt, Soundi.
We took things very slowly and watched a relationship develop between the two of them. When Yaoundé was big enough and strong enough she was fully introduced to Shumba. It couldn't have gone any better! Yaoundé climbed straight onto Shumba's back. It was only a matter of a few days of short meetings until we decided the bond between them was strong enough and we left them together full time.
The next step was to introduce them to the rest of Ebeki's group. It is not uncommon for a silverback gorilla to kill offspring that are not his own, so this was the most tense part of the whole process for the team. Fortunately, all went well and Yaoundé was accepted into her new family!
Yaoundé is extremely playful, cheeky, and a bit of a drama queen. She never fails to make her keepers and visitors laugh with her antics and she's always finding ways to cause mischief with her partner in crime, 3 year old Ikebe. The older she gets the more confident she is becoming. She can often be observed either entertaining herself or most likely playing with Ikebe, all under the watchful eye of Shumba and the rest of the family.
Bring your family to meet our family this summer. You'll find Ebeki, Yaoundé and the rest of the group in the New Gorilla Enclosure closest to the car park, just a short walk from the Gatehouse.