Our large carnivore project in the Lésio-Louna Reserve, Republic of Congo, has already reached its one year anniversary.
The two-year programme of activities, made possible thanks to the support of IUCN Save our Species, is designed to assess the presence of apex predators, leopards and lions, in the reserve. We already had anecdotal evidence from local communities that big cats did exist in the area, and our patrol teams had witnessed leopard tracks and heard lions calling in recent years, but no formal assessment had ever been carried out. This project is the first time it has been possible for us to conduct research specifically to establish the presence of both species.
Contrary to popular belief big cats are elusive by nature and tend to avoid areas where there is a regular disturbance or too much activity. This means that the use of camera traps checked on a monthly basis would be a fundamental part of the project. And to ensure wide enough coverage of the reserve our patrols would carry out extended missions of two weeks duration, camping out overnight so that their patrol routes could reach further into the protected area.
Evidence of Leopards & Lions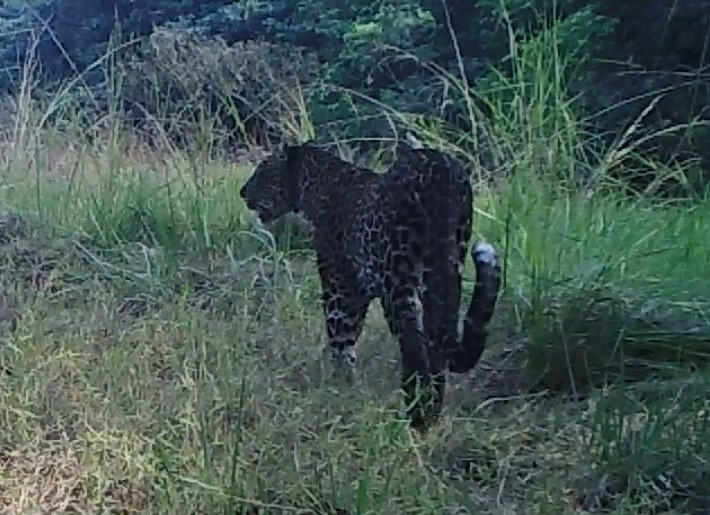 Leopard Caught on Camera Trap in Lésio-Louna Reserve – September 2020 © —2020 —The Aspinall Foundation. All rights reserved. Licensed to the European Union under conditions.
Our most exciting piece of evidence so far is a video capture of this stunning leopard walking past a camera trap in September 2020. Our patrols have also logged a number of leopard tracks, identifying by the size and shape of their paw prints that both male and female cats had been present in the reserve. Leopards are one of the most difficult animals to track by foot patrols. They tend to live a solitary lifestyle and do not follow predictable routes, often wandering in seemingly random directions especially when hunting. They tread very lightly, so finding distinct tracks is not easy on ground hardened by sun and lack of rain.
Physical evidence of lions has yet to be found. During the project, our team in Congo have recorded the anecdotal evidence provided by the local people living in the villages around the edge of the reserve. It is clear from their knowledge, and the reports of our own patrol teams, that lions have been in the area as recently as 2019. We hope to find direct evidence of their continued presence before the project ends in May 2022.
The Abundance of Prey Species
For wild animals the availability of a suitable food source in areas they spend time in is essential. For leopards and lions, this means an abundance of prey species, including many cloven-hoofed animals such as antelopes, buffalo, bushbuck, duiker, and hogs. As part of the project, our team are recording evidence of all species captured on the camera traps and observed directly whilst on patrol. Findings so far are positive with frequent sightings of suitable prey such as sitatunga, duiker, African civet and red river hog, as well as forest buffalo.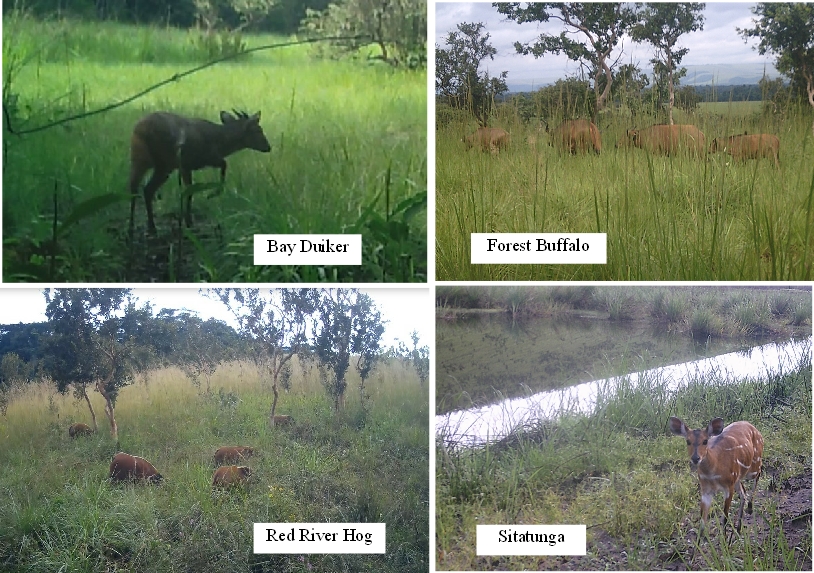 Camera Trap Images © —2020/2021 —The Aspinall Foundation. All rights reserved. Licensed to the European Union under conditions.
Unauthorised Activity within Lésio-Louna Reserve
Another very important aspect of the project is the reduction of pressure from illegal activities through the regular camping missions which allow our patrols to reach a wider section of the protected area. The noise and disturbance generated by human activities are likely to be a significant factor in the reluctance of leopards and lions to include Lésio-Louna as part of their home ranges.
During the past twelve months, our patrols have frequently encountered unauthorised activities, such as hunting, fishing and market gardening. The first response of the teams is to destroy camps and contraband whilst raising awareness with the people responsible for the offence they are committing. This can sometimes be sufficient, but for repeat offenders, or where firearms are involved, arrests are made, and weapons confiscated.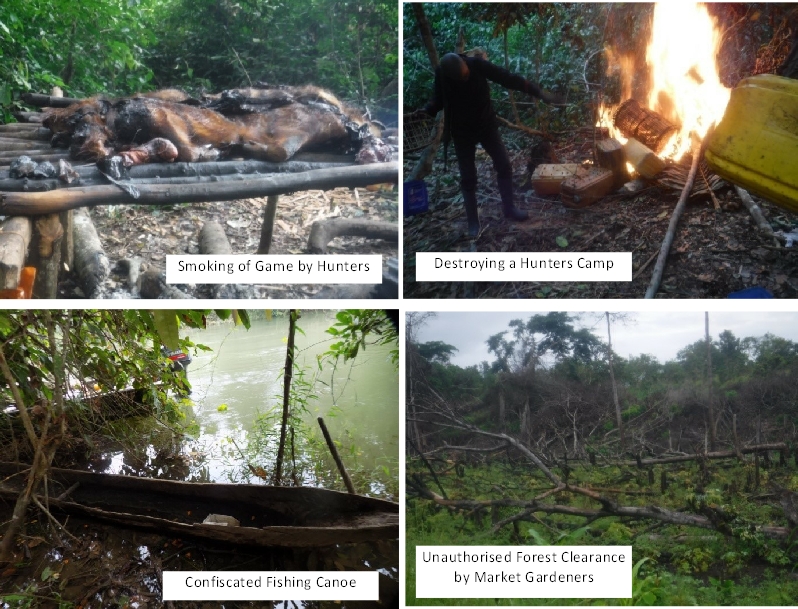 Unauthorised Activity within Lésio-Louna Reserve © —2020/2021 —The Aspinall Foundation. All rights reserved. Licensed to the European Union under conditions.
The Gorillas
Although the focal species of this project are leopards and lions this project is also providing exciting new information about the western lowland gorillas living wild in the Lésio-Louna Reserve following successful reintroductions as part of our Gorilla Protection Project. Regular followers of our social media posts may have already read about the amazing camera trap footage which captured a recent inter-action between two silverbacks. Makoua, the leader of a large breeding group, and Téké, his eldest son. If you haven't then you can read about this, and the news of a new baby, here.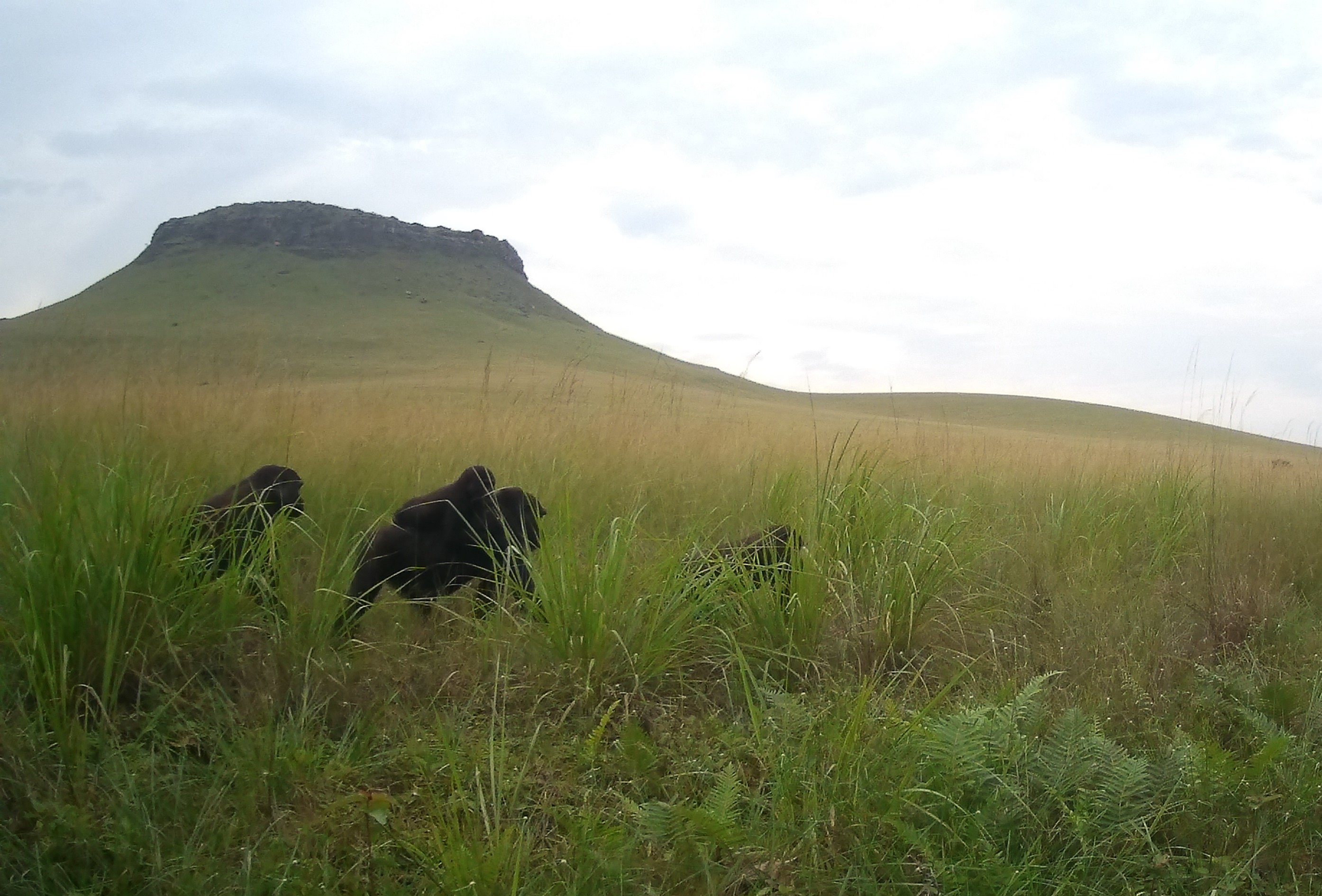 Camera Trap Image of Females/Adolescent Gorillas in Makoua's Group © —2021 —The Aspinall Foundation. All rights reserved. Licensed to the European Union under conditions.
The Next Twelve Months
During the next twelve months of the project, our team in Congo will continue their monthly camping missions. We very much hope that we will capture further evidence of leopards and our first proof that lions still visit the reserve. We will also continue to capture valuable data on the many species present and the patrols will deter those wishing to carry out illegal activities in the protected area. Over the full term of this project, we will gain significant new information about the eco-system of the reserve and the results will support our long-term strategy to add further levels of protection for Lésio-Louna and its diverse wildlife.
Our Thanks
This project is possible thanks to administrative authorities of the Ministry, in particular the General Directorate of the Ministry of Forest Economy as well as the Directorate in charge of Wildlife and Protected Areas who have been of great support for the conservation work carried out in the Reserve. We are also extremely grateful for the support of IUCN Save our Species who, through the African Wildlife Initiative, are helping to support this two-year project that commenced in May 2020. The African Wildlife initiative is a partnership between the European Union and IUCN that responds to conservation challenges facing key threatened species in sub-Saharan Africa. It delivers tangible results for species, habitats and people.
This publication was produced with the financial support of the European Union through IUCN Save Our Species. Its contents are the sole responsibility of The Aspinall Foundation and do not necessarily reflect the views of IUCN or the European Union.