Can wildlife populations be restored? Apparently so, and often are, according to a new book freely available online.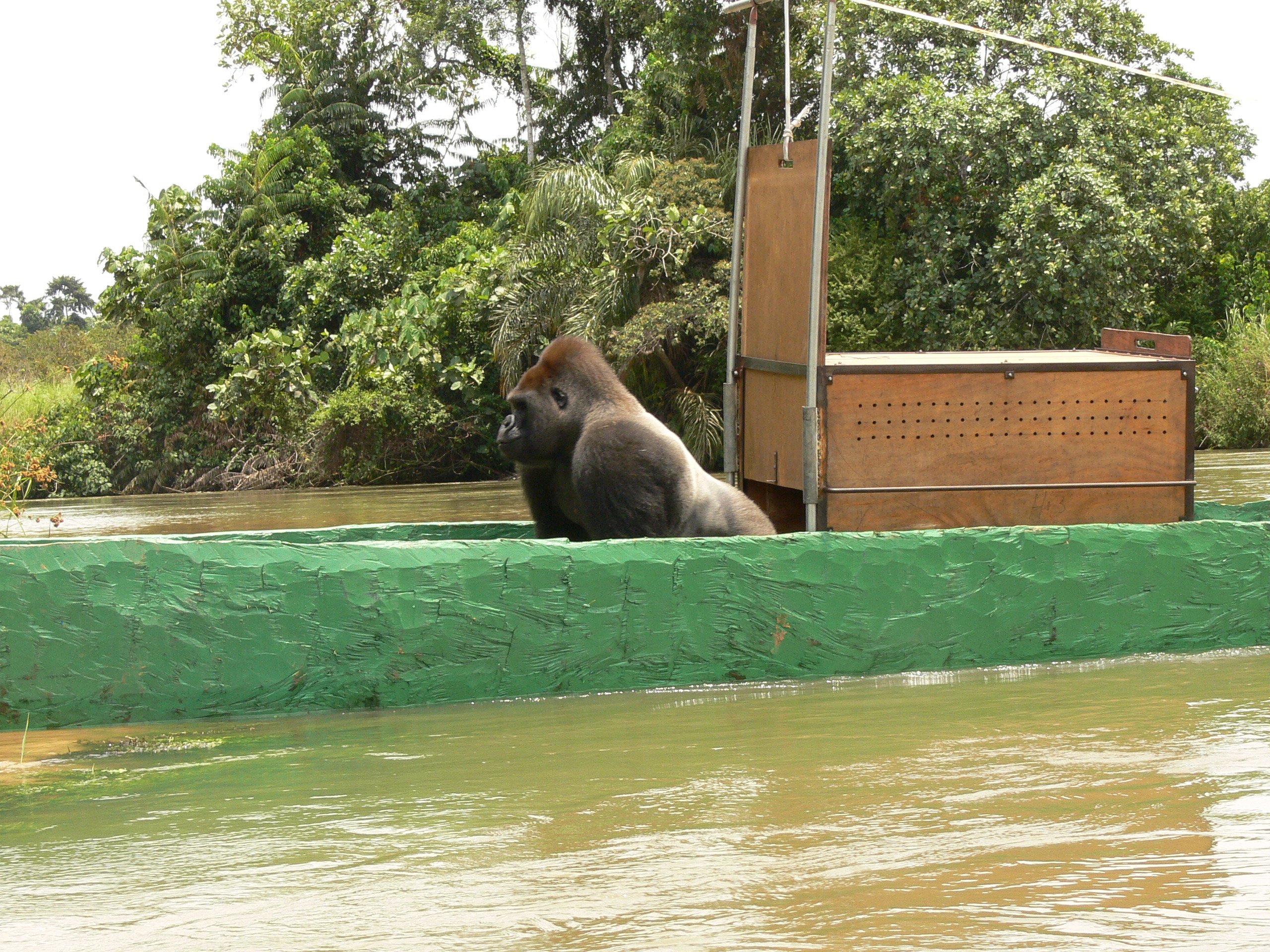 Western lowland gorilla release in the Republic of Congo. © Tony King, The Aspinall Foundation
Edited by Pritpal S. Soorae, the new book, entitled "Global conservation translocation perspectives: 2021", comprises 69 case studies of conservation translocations – releasing wild animals and plants to help restore populations and habitats – of a total of 78 species.

Presenting the book, the 7th issue in the series that has been running since 2008, Dr Shaikha Al Dhaheri of the Environment Agency of Abu Dhabi explained "The case studies are as varied as ever covering crayfish in Australia, desert fish in restricted waterbodies in Las Vegas, deer in China to large‐scale rainforest restorations in Brazil." Indeed Soorae notes that the case studies cover seven major taxa - plants, mammals, birds, fish, amphibians, invertebrates and reptiles – across eight global regions. The authors of the 69 case studies were asked to rank the success to date of each conservation translocation; 4% were ranked as Failures, 22% as Partially Successful, 50% as Successful, and 24% as Highly Successful.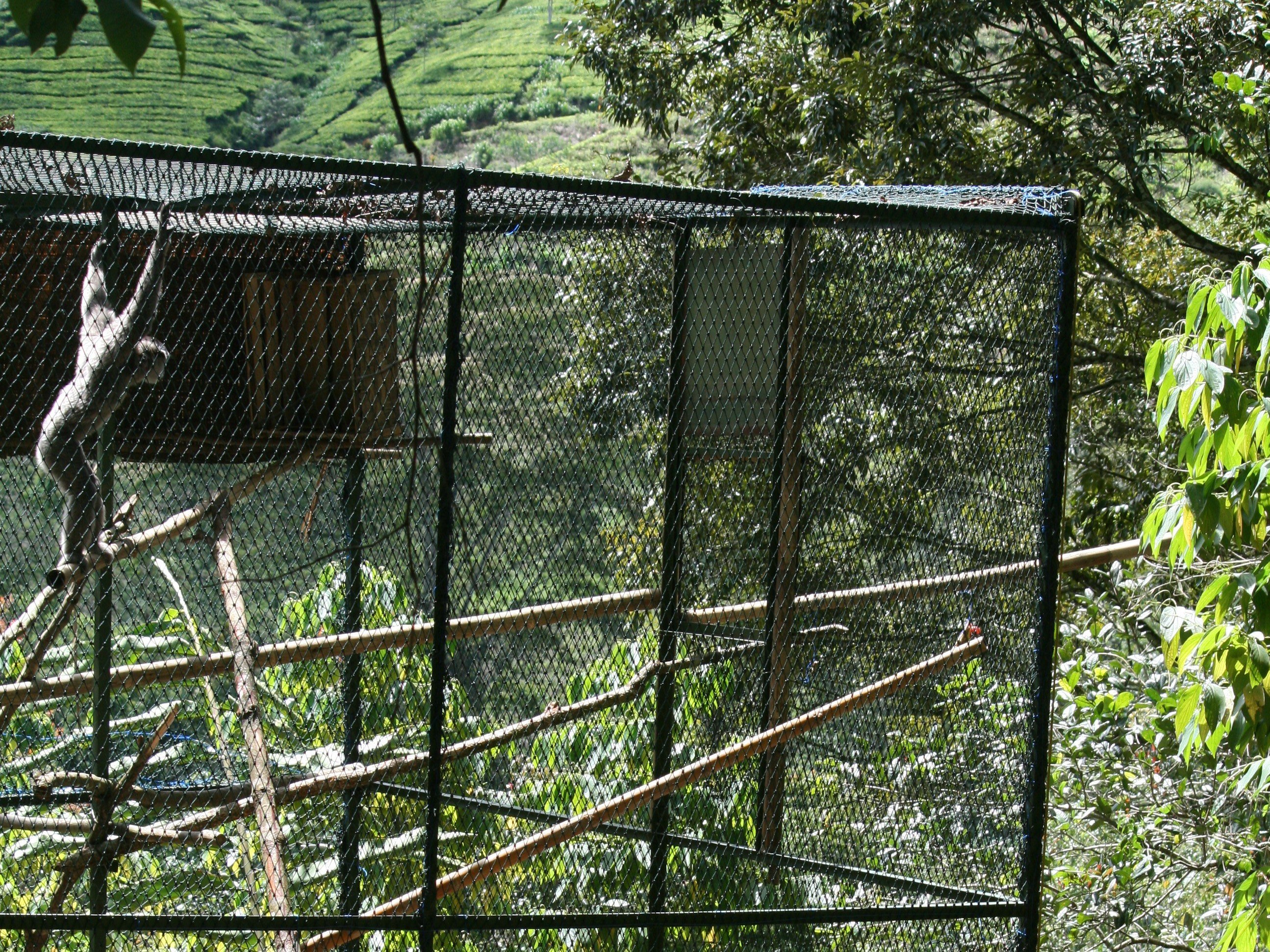 Javan gibbon soft release in Indonesia. © Tony King, KLHK, The Aspinall Foundation
In one of the forewords to the book, Tony King of the UK-based charity The Aspinall Foundation gave the examples of a long-term project to reintroduce gorillas to the Batéké Plateau in Central Africa, which has seen "over 70 gorillas released and over 30 births within two re‐established populations", and of similar projects "for three primate species in Java, Indonesia, totalling 159 released primates in five population reinforcement projects". King remarked these examples "highlight the benefits that the release of primates rescued from the illegal pet trade can have on isolated or locally extirpated populations", whilst a very different case study reports "the successful welfare release in South Africa of a single Brown hyaena, born in a European zoo, illustrating that it can be possible to release zoo‐born carnivores", and another that "showcases the return of Europe's largest land mammal, the European bison, to Romania. The European bison remains one of the surprisingly few examples of how zoo populations can bring species back from extinction in the wild."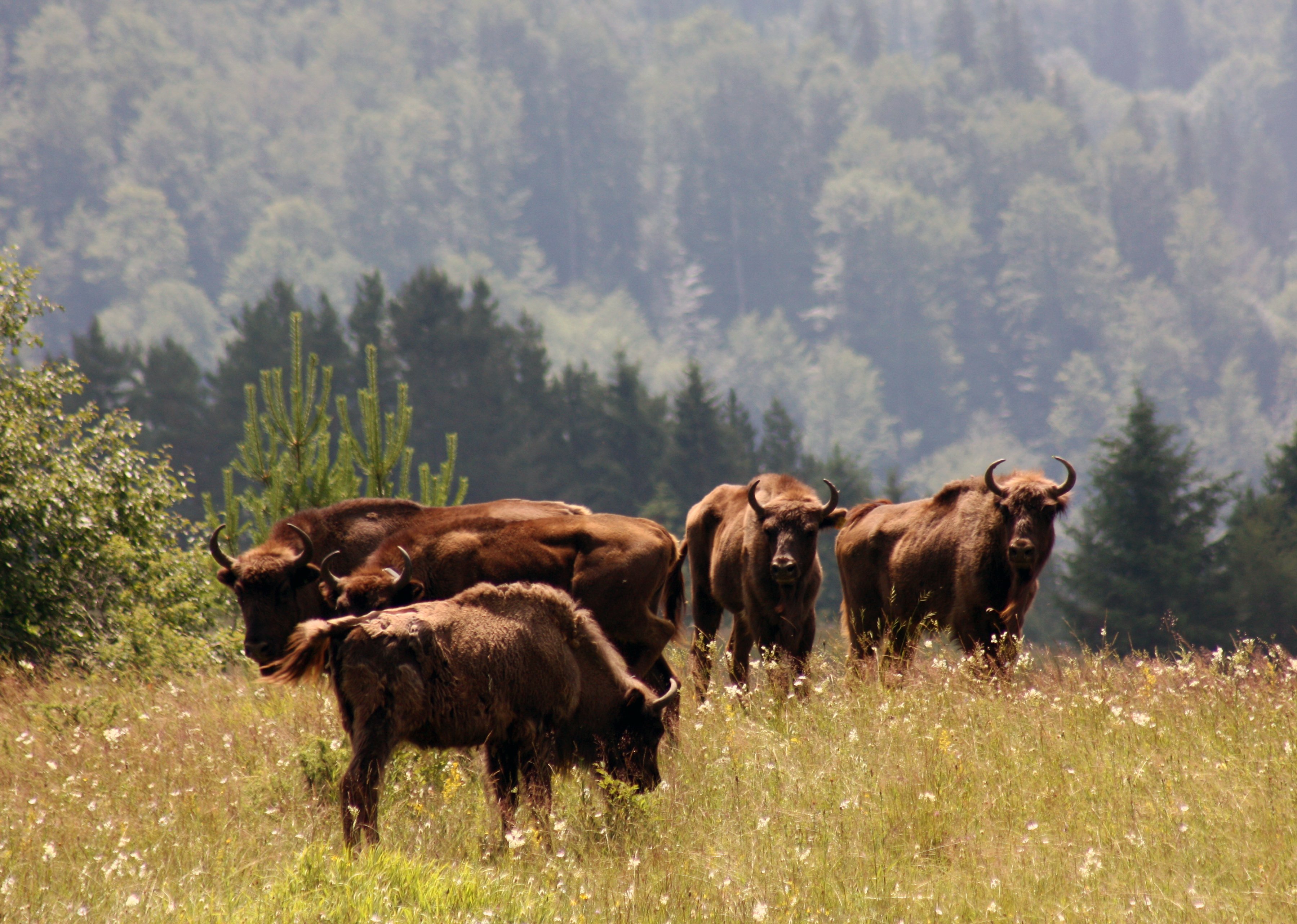 Released European bison in Vanatori Neamt Nature Park Romania. © VNNP Administration
Dr Al Dhaheri noted that 35% of the case studies concerned plants, and gave an example of the restoration of the white saxual, a plant "challenged by many factors such as increased aridity", to native habitat in Abu Dhabi. Dr Al Dhaheri also highlighted the "large‐scale restoration of ecosystem function in Chad in the Sahel region of Africa" through the reintroduction of the iconic Scimitar‐horned oryx, with currently 350 individuals in the wild, the release of Addax antelope, and planned releases of Dama gazelle and Red‐necked ostrich.
The book was published by the IUCN SSC Conservation Translocation Specialist Group, the Environment Agency of Abu Dhabi, and Calgary Zoo, with support from Wildlife Reserves Singapore, The Aspinall Foundation, and the IUCN Species Survival Commission.
According to Dr Axel Moehrenschlager, based at Calgary Zoo and Chair of the IUCN SSC Conservation Translocation Specialist Group (CTSG), the vision of the CTSG is "A world where courageous action repairs nature's past damage and secures against threats of the future", and its mission is "To empower responsible conservation translocations that save species, strengthen ecosystems, and benefit humanity." Dr Jon Paul Rodriguez, Chair of the Species Survival Commission (SSC) of the World Conservation Union (IUCN) explained that the newly-adopted term "conservation translocations" represents a broad set of interventions, including reintroductions of species to areas from where they have become extinct, but also spanning "any human‐mediated translocation for conservation purposes, including conservation breeding, propagation, or head starting for release, reinforcement, ecological replacement, assisted colonization, rewilding and de‐extinction." Dr Sonja Luz, Conservation, Research and Veterinary Director for Wildlife Reserves Singapore, noted "We see an increasing need for conservation translocations, with many threatened species being displaced by human-wildlife conflict, habitat loss and over-exploitation."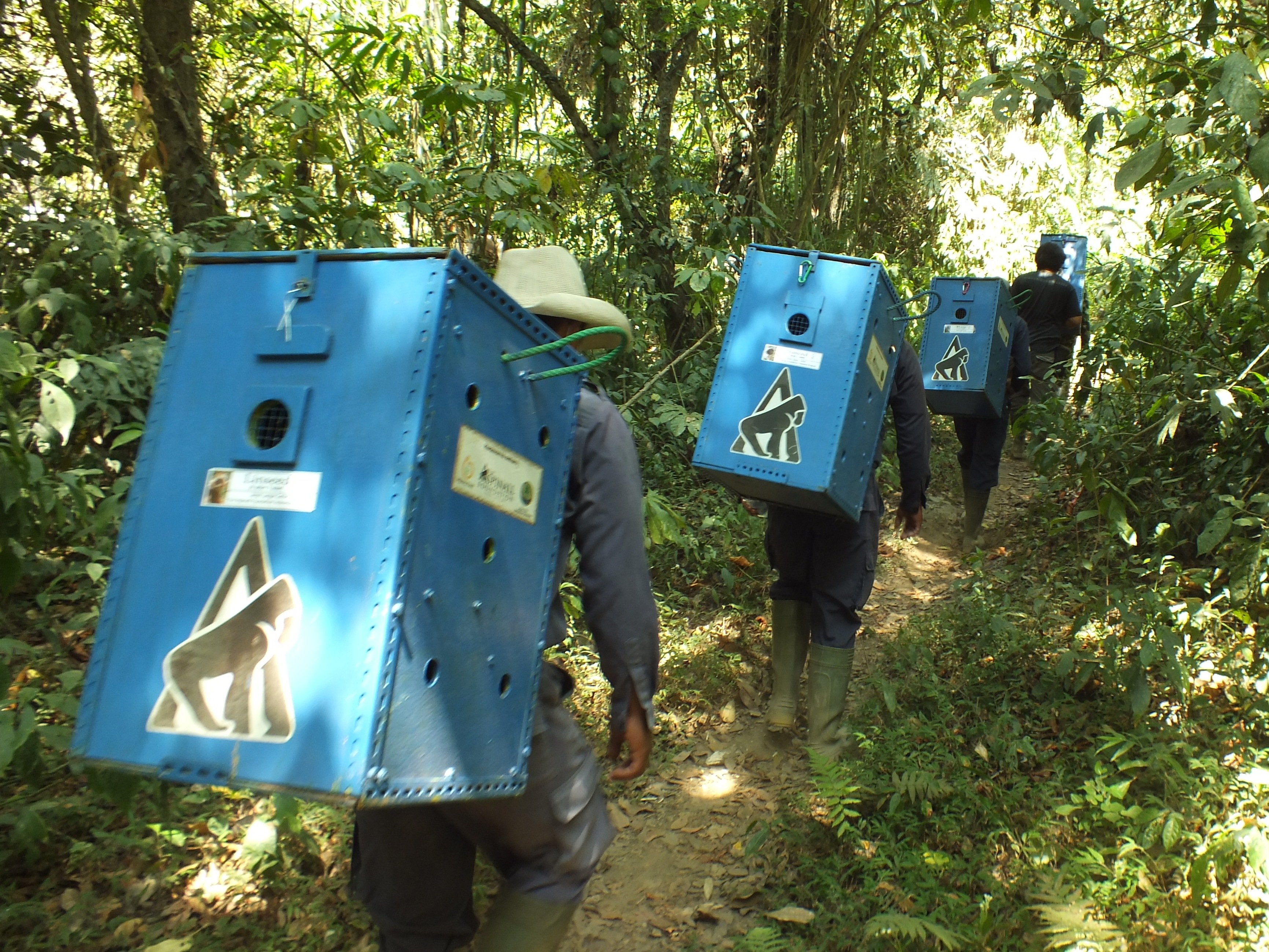 Transporting Javan ebony langurs for release. © Iwan Kurniawan, KLHK, The Aspinall Foundation
Dr Moehrenschlager explained "This is a book about action. It is about saving species and ecosystems to yield profound benefits for nature and humanity. This book is also about courage. It is about amazing teams working together, sometimes against all odds, to make a difference." As Tony King concluded "The case studies in this series show us that habitats and populations can be restored when sufficient will and resources are put to the task. They offer hope and inspiration at a time when our planet needs action more urgently than ever before."
A PDF version of the new book is available here.
To find out more about the other organisations involved in the publication:
Conservation Translocation Specialist Group
The IUCN SSC Conservation Translocation Specialist Group (CTSG) aims to 'empower responsible conservation translocations that save species, strengthen ecosystems, and benefit humanity' for a vision of 'a world where courageous action repairs nature's past damage and secures against threats of the future'. CTSG collaborates with others to plan, conduct, or evaluate any conservation programs that involve translocations in the wild, or releases arising from breeding, propagation, or head-starting. Through science, policy, guidance, training, action, and outreach, CTSG can help enable effective reintroductions, reinforcements, assisted colonization, or ecological replacements spanning all terrestrial, freshwater, or marine ecosystems.
Environment Agency - Abu Dhabi
Established in 1996, the Environment Agency - Abu Dhabi (EAD) is committed to protecting and enhancing air quality, groundwater as well as the biodiversity of our desert and marine ecosystem. By partnering with other government entities, the private sector, NGOs and global environmental agencies, we embrace international best practice, innovation and hard work to institute effective policy measures. We seek to raise environmental awareness, facilitate sustainable development and ensure environmental issues remain one of the top priorities of our national agenda.
The Calgary Zoo's vision is to be Canada's leader in wildlife conservation. In close alignment with IUCN, this vision is pursued through a mix of Canadian and global conservation initiatives regarding two strategic pillars: 1) conservation translocations, such as reintroductions, to avert species extinction and strengthen ecosystem function; and 2) community conservation to bring mutual and sustainable benefits for local livelihoods and biodiversity. The Calgary Zoo engages in collaborative partnerships around the world to develop the innovation and application of science-based solutions to achieve long-term benefits for conservation.
Wildlife Reserves Singapore (WRS) is dedicated to the management of world-leading zoological institutions - Jurong Bird Park, Night Safari, River Safari and Singapore Zoo - that aim to inspire people to value and conserve biodiversity by providing meaningful and memorable wildlife experiences. A self-funded organization, WRS focuses on protecting biodiversity in Singapore and Southeast Asia through collaborations with like-minded partners, organizations and institutions. Each year, the four attractions welcome five million visitors.
IUCN Species Survival Commission (SSC)
With over 8,000 members, the Species Survival Commission (SSC) is the largest of the six expert commissions of IUCN and enables IUCN to influence, encourage and assist societies to conserve biodiversity by building knowledge on the status and threats to species, providing advice, developing policies and guidelines, facilitating conservation planning, and catalyzing conservation action. Members of SSC belong to one or more of the 140 Specialist Groups, Red List Authorities and Task Forces, each focusing on a taxonomic group (plants, fungi, mammals, birds, reptiles, amphibians, fishes and invertebrates), or a disciplinary issue, such as sustainable use and livelihoods, reintroduction of species, wildlife health, climate change and conservation planning.