As part of our project to establish the presence of leopards and lions in the Lésio-Louna Reserve, Congo we have been able to position more camera traps throughout the protected area. The data collected is increasing our knowledge of the species that are present and is also providing us with additional information on the western lowland gorillas that we have reintroduced. In this respect, some footage captured at the end of February this year provides a fascinating insight into gorilla behaviour as well as some welcome news.
Makoua, Djembo and Téké June 2005 - © Tony King, The Aspinall Foundation
Observing Western lowland gorillas in the wild is particularly difficult as they inhabit dense rainforest, so camera traps are a vital tool for gaining a better understanding of their natural behaviour. As a species they are not believed to be as aggressive as their mountain-dwelling counterparts and individuals, mainly females will often move between close-ranging groups, as we have witnessed at both our Gorilla Protection Projects in Congo and Gabon. Yet there is a hierarchy within each group, known as a troop, headed by a single male silverback. Whilst non-aggressive encounters are relatively frequent dominant males will guard their families when necessary.
Makoua and Téké
Makoua, now an impressive silverback and leader of a large troop in Lésio-Louna, came to our project as an orphan in April 1993. At less than two years old he spent several years being cared for at our gorilla orphanage until his release back to the wild. By January 2003 Makoua was the dominant male of a small group consisting of two females and one other male. In April 2004 one of the females, seventeen-year-old Djembo, gave birth to the first gorilla born in the wild from the reintroduced groups. Makoua was the father and the infant, a male, was named Téké.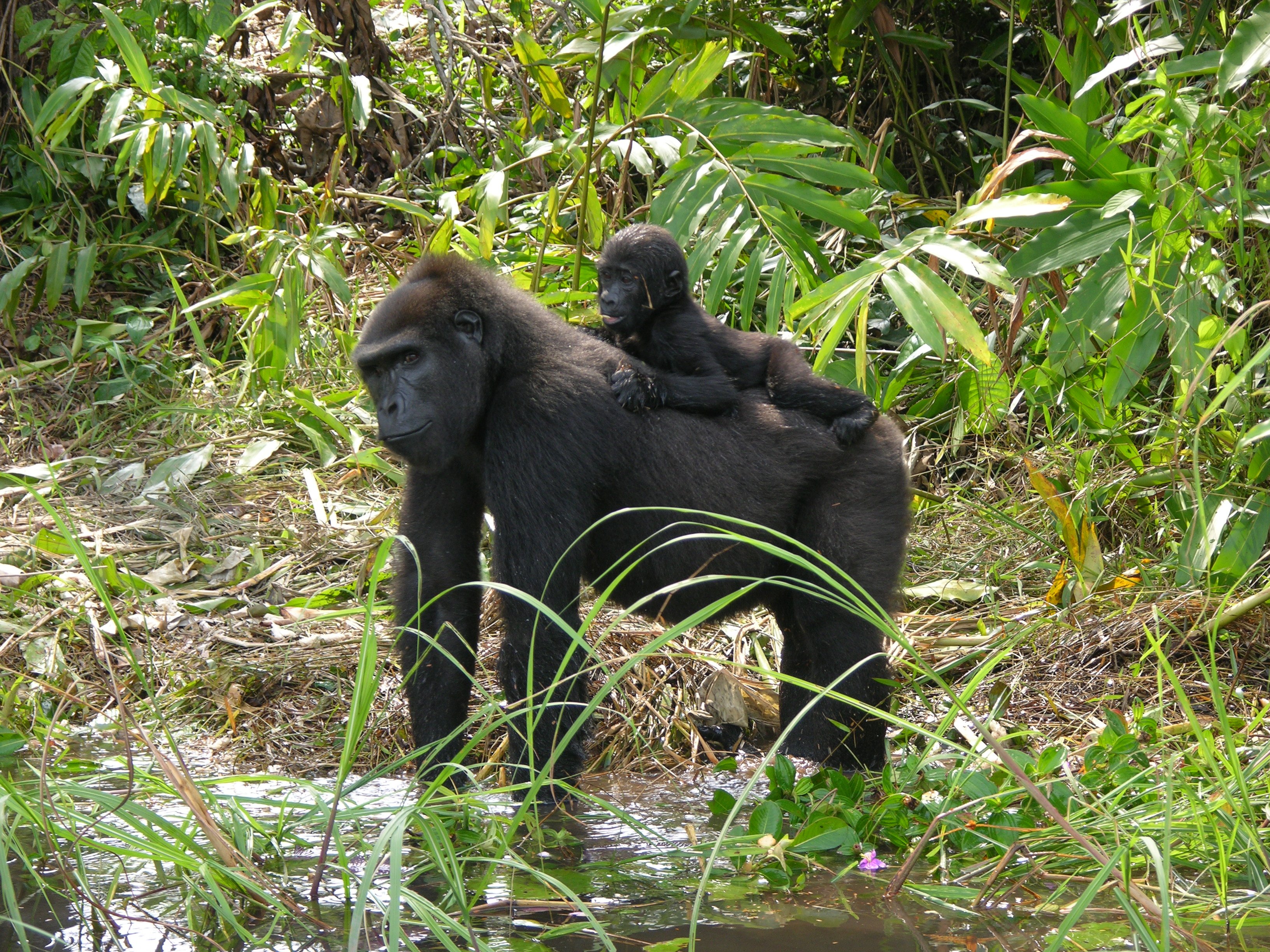 Djembo and Téké October 2005 - © Tony King, The Aspinall Foundation
Seventeen years later Makoua, now leading a troop of at least 25 gorillas, has been captured on camera as he warns Téké, now a full-grown silverback, to stay away from his females. As with all adolescent male gorillas, Téké left the group a few years ago. Young males remain solitary until they form a troop of their own and given the interaction between the two males captured on the video footage it seems he is showing a keen interest in attracting some of his father's females, much to Makoua's disapproval. If Téké is persistent he may win a female or two, and then we can look forward to the next generation of wild-born western lowland gorillas, and that would be a perfect result.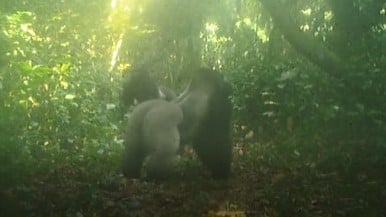 Makoua & Téké February 2021 - © The Aspinall Foundation
Lengui
Incredibly this video capture of a few minutes as Makoua's gorilla troop move past the camera trap also gave us some wonderful news. Lengui's story is truly amazing, and you can read some more about her past here when we posted an article about her at the end of 2018. In summary, Lengui joined our project in 1994, less than two years old, orphaned and deeply traumatised. She had been confiscated from villagers who had tied her to a stake in a field. They were trying to keep her alive until she was big enough to have a value as bush-meat. They had found her confused and distressed, sitting beside a snare with the severed hand of her mother still trapped within. She was nursed back to health at the gorilla nursery and was released back to the wild in 1998.
In a tragic twist of fate, one of our patrols found her in 2002 with an obvious injury to her right hand. Just like her mother eight years earlier, she too had been snared. Strong-willed and unwilling to give up, Lengui had pulled the snare from the ground, but in the process, the wire had embedded even deeper into her flesh, and a raging infection threatened her life. There was only one option – the lower portion of her right arm had to be amputated.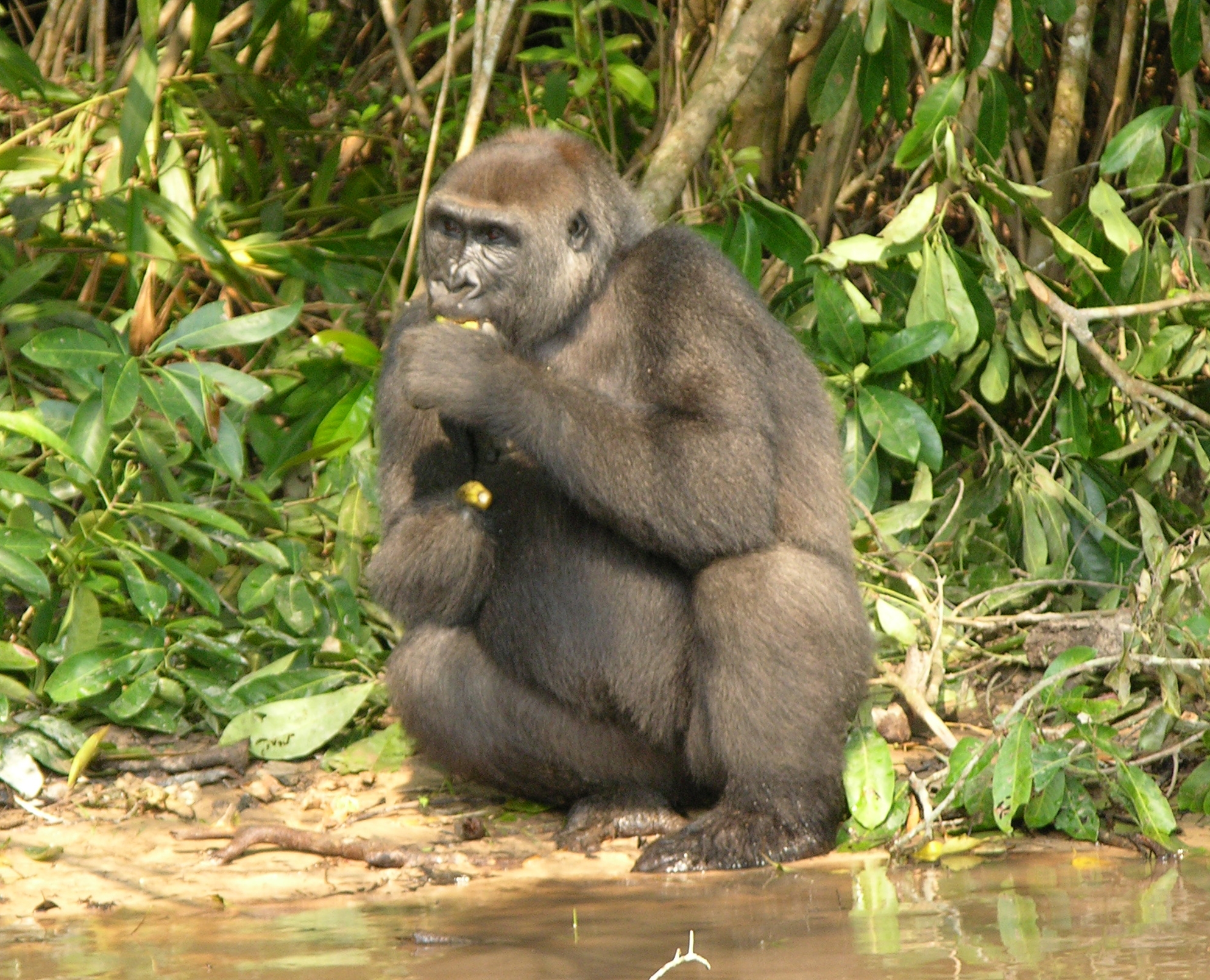 Lengui in 2006 - © The Aspinall Foundation
This amazing young female recovered quickly and just 9 months later she was released back to the wild. Not only did she survive, but she raised at least one infant that we were able to record, a daughter born in June 2010. Then, after April 2014, she was no longer observed in the reserve and after a few years, it seemed the worst must have happened and she was presumed to have died.
Then, in June 2018 our team in Congo told us she had been spotted in the company of a solitary male. It was hard to believe, but when they were then able to send us a camera trap image of her in August that year there could be no doubt. We have no idea where she had been for more than four years, but there was no doubt – Lengui was back.
Now, in February 2021 not only can we see her back with Makoua, but in the crook of the damaged right arm, she is cradling a newborn infant.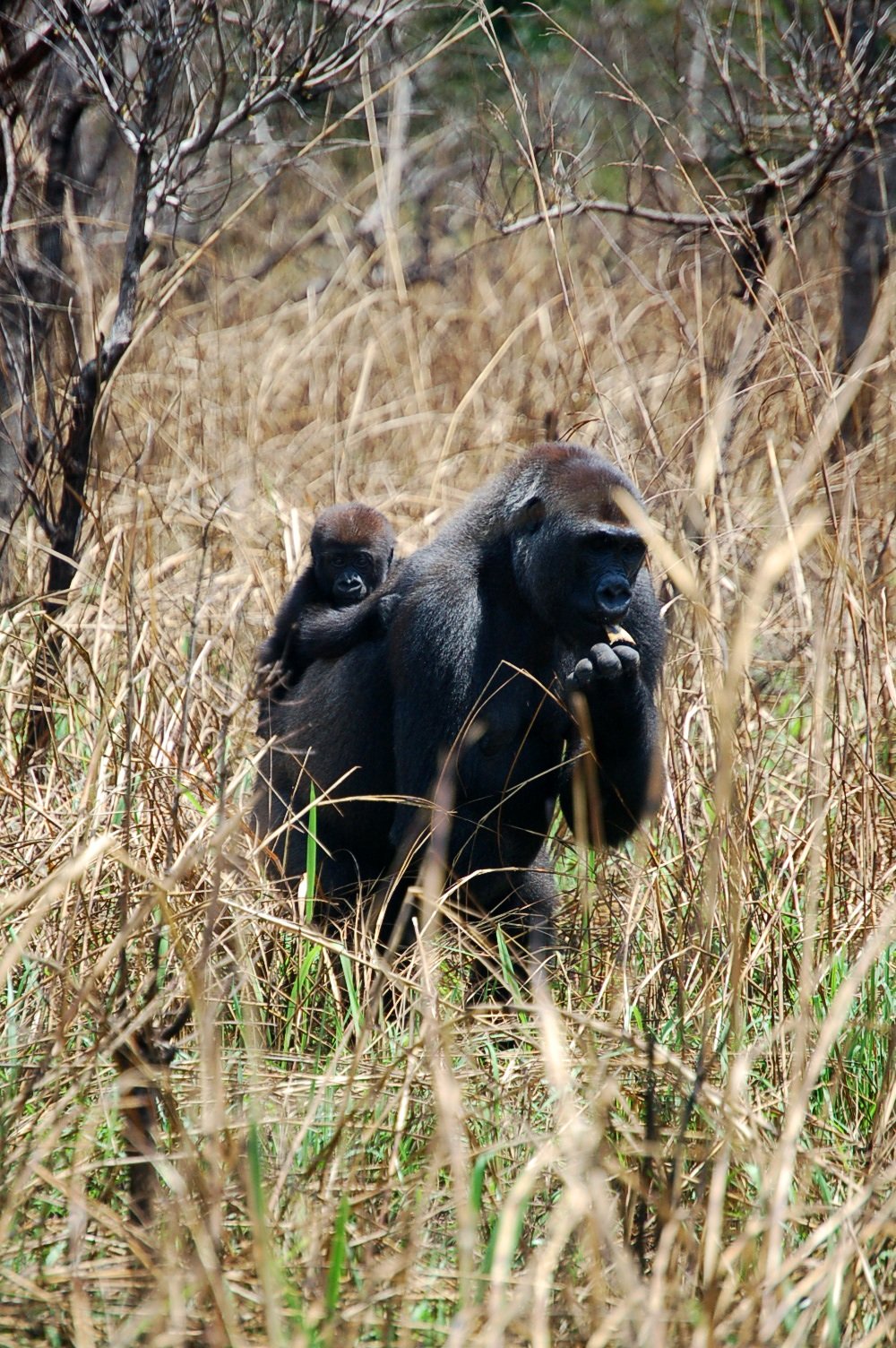 Lengui & Daughter in 2011 - © The Aspinall Foundation
There is much we don't know about Lengui. Twice she has suffered exposure to harm because of the bush-meat trade, and both times we have helped her to overcome the damage done. Yet our intervention alone would not be enough without her resilience and determination to survive. Despite the loss of her arm she is incredibly independent and has moved between family groups, solitary males and, quite possibly time on her own. It brings us immense joy to see her again and we hope to capture more glimpses of her in the years to come.
Our Gorilla Protection Project and our work at Lésio-Louna Reserve is possible thanks to administrative authorities of the Ministry, in particular the General Directorate of the Ministry of Forest Economy as well as the Directorate in charge of Wildlife and Protected Areas who have been of great support for the conservation work carried out in the Reserve. We are also extremely grateful for the support of IUCN Save our Species who, through the African Wildlife Initiative, are helping to support a two-year project that commenced in May 2020, which is enabling us to use camera traps more extensively. The African Wildlife initiative is a partnership between the European Union and IUCN that responds to conservation challenges facing key threatened species in sub-Saharan Africa. It delivers tangible results for species, habitats and people.
This publication was produced with the financial support of the European Union through IUCN Save Our Species. Its contents are the sole responsibility of The Aspinall Foundation and do not necessarily reflect the views of IUCN or the European Union.