It is now several months since we began our current two-year project supported by IUCN Save our Species to release rehabilitated Javan gibbons at Mt Tilu Nature Reserve. This project follows an existing programme at the project site which had already seen 33 gibbons released back to the wild since 2014.
The Impact of Coronavirus
Early in the project restrictions on movement, and concerns over managing the risks associated with the coronavirus pandemic, meant that the release programme was not able to proceed as planned. However, thanks to strict safety protocols and effective planning by the TAF Indonesia team the work of rehabilitating rescued gibbons continued at our Javan Primate Rescue Centre (JPRC) and by late September 2020, the first pair of gibbons to be released as part of this project were transferred to Mt Tilu NR.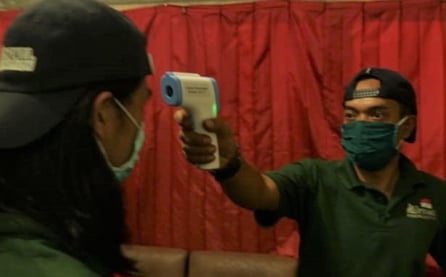 Coronavirus Protocols, Temperature Checks - © The Aspinall Foundation.
Repatriation of Javan gibbons from the UK
Looking back at the first six months of the project it was inevitable the risks of Covid-19 would have an impact on a number of the activities we intended to undertake. One restriction yet to be resolved is the transfer of a small group of UK captive-bred gibbons to JPRC to join the rehabilitation programme and eventual release into the wild. Animal movements of this kind continue to be challenging, and for primates in particular as they are one of the mammals known to be susceptible to infection. If it is possible and deemed safe to do so, we hope to carry out the transfer later this year.
New Arrivals
In the meantime, wild-born primates often caught up in the illegal pet trade, continue to arrive at JPRC. One of the recent arrivals was a female Javan gibbon called Ikis, collected by the team on 23rd January 2021. With an estimated age of 12 or 13, she is older than the majority of confiscated gibbons, as many new arrivals are under the age of five. Whilst her first medical checkup indicated she was in reasonable health, she was clearly underweight. Immediately prior to being handed over to our team, she had bitten a child, a clear message to her 'owners' that being kept as a pet was not an appropriate life for a wild animal. Now she will hopefully regain her strength and weight at our Centre.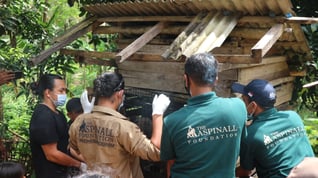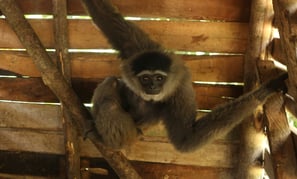 Collecting Ikis - © The Aspinall Foundation.
The Rehabilitation & Release Programme
On arrival, many of the wild-born gibbons are traumatised, malnourished and often exhibit unnatural behaviour. During their time at JPRC, they are monitored, assessed and undergo medical examinations to ensure they are progressing well. Once new arrivals have undergone a period of quarantine they enter socialisation cages and are introduced to other gibbons, hopefully, to bond into pairs. Gibbons are monogamous and whilst bonded pairs do not always stay together once released it is recognised good practice to re-wild pairs when possible. The time that a gibbon spends at the Centre can vary from a few months to several years. This depends on obvious factors such as age and health on arrival, but also each gibbon is assessed for release as an individual.
Our team at TAF Indonesia are highly experienced at judging when the time is right, and in October 2020 Lilo and Jojo were released at Mt Tilu, closely followed by Hadi and Jenifer in February 2021. All four were wild-born gibbons confiscated from the illegal pet trade and they now have a second chance at the life in the wild that they deserve.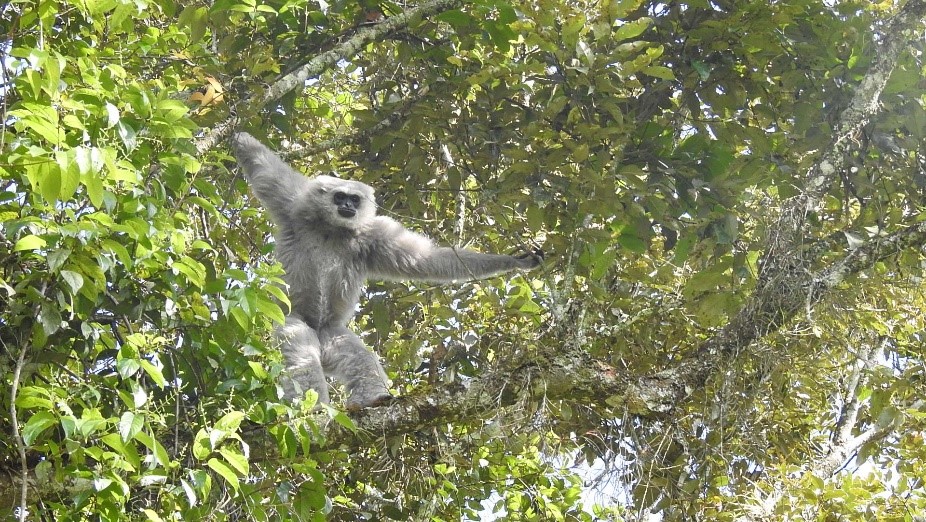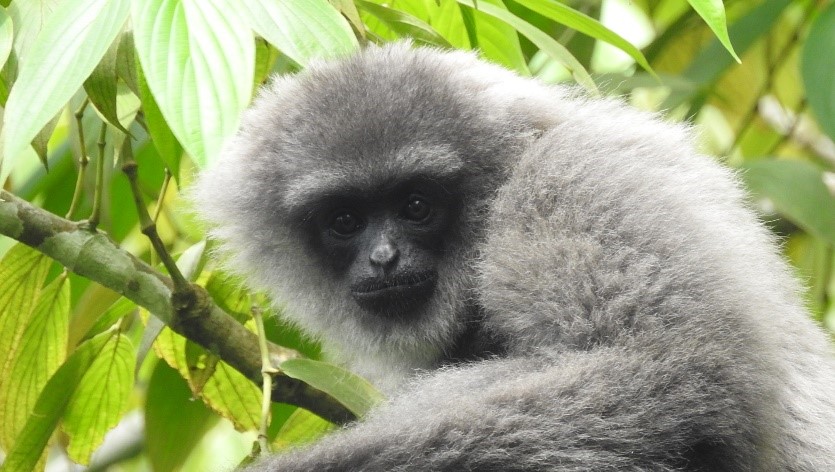 Hadi & Jenifer Post Release - © The Aspinall Foundation.
International Gibbon Day
To celebrate International Gibbon Day 2020, on 24th October, we released an amazing video of the release of Lilo and Jojo and were delighted to participate in a special digital publication as part of the IUCN Save Our Species Gibbon Initiative.
Community Involvement
As with all our projects community involvement is an important element. Despite the restrictions due to the pandemic our team in Indonesia not only continue the community programme but it has evolved to work around some of the limitations. For example, education and school visits are important activities, and rather than cancel them when a face to face session has not been possible the team have created an online alternative.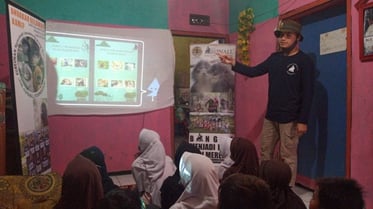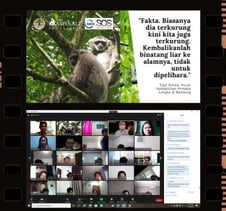 Education Sessions Held Offline & Online - © The Aspinall Foundation.
Looking to the Future
We hope you will agree the first six months of this latest phase of our Javan gibbon rehabilitation and release programme has been both busy and rewarding. We are delighted the project will be in place until 10th August 2022 thanks to the support of IUCN Save Our Species and we will bring further updates in the future.
This project is a part of the Javan Primates Conservation Programme (JPCP), managed cooperatively since 2010 by the Ministry of Environment and Forestry of the Republic of Indonesia and The Aspinall Foundation.
This project is co-funded by IUCN Save Our Species. The contents of this article are the sole responsibility of The Aspinall Foundation and do not necessarily reflect the views of IUCN.