Seven-member pack will travel 4400 miles, moving from Port Lympne Reserve, Kent to Parc de la Lékédi, Gabon.

Seven endangered African painted dogs from Port Lympne Reserve will soon be basking in the African sunshine of Gabon's Parc de la Lékédi thanks to the work of The Aspinall Foundation.

The pack, led by a six-year old male named Five, are due to leave the popular Kent park in December, travelling via Eurotunnel to Luxembourg before being carefully loaded onto a flight to Brazzaville in Congo which has been generously provided free of charge by Cargolux. The final 340 mile leg of their journey from Congo to Parc de la Lékédi will take 15 hours by road.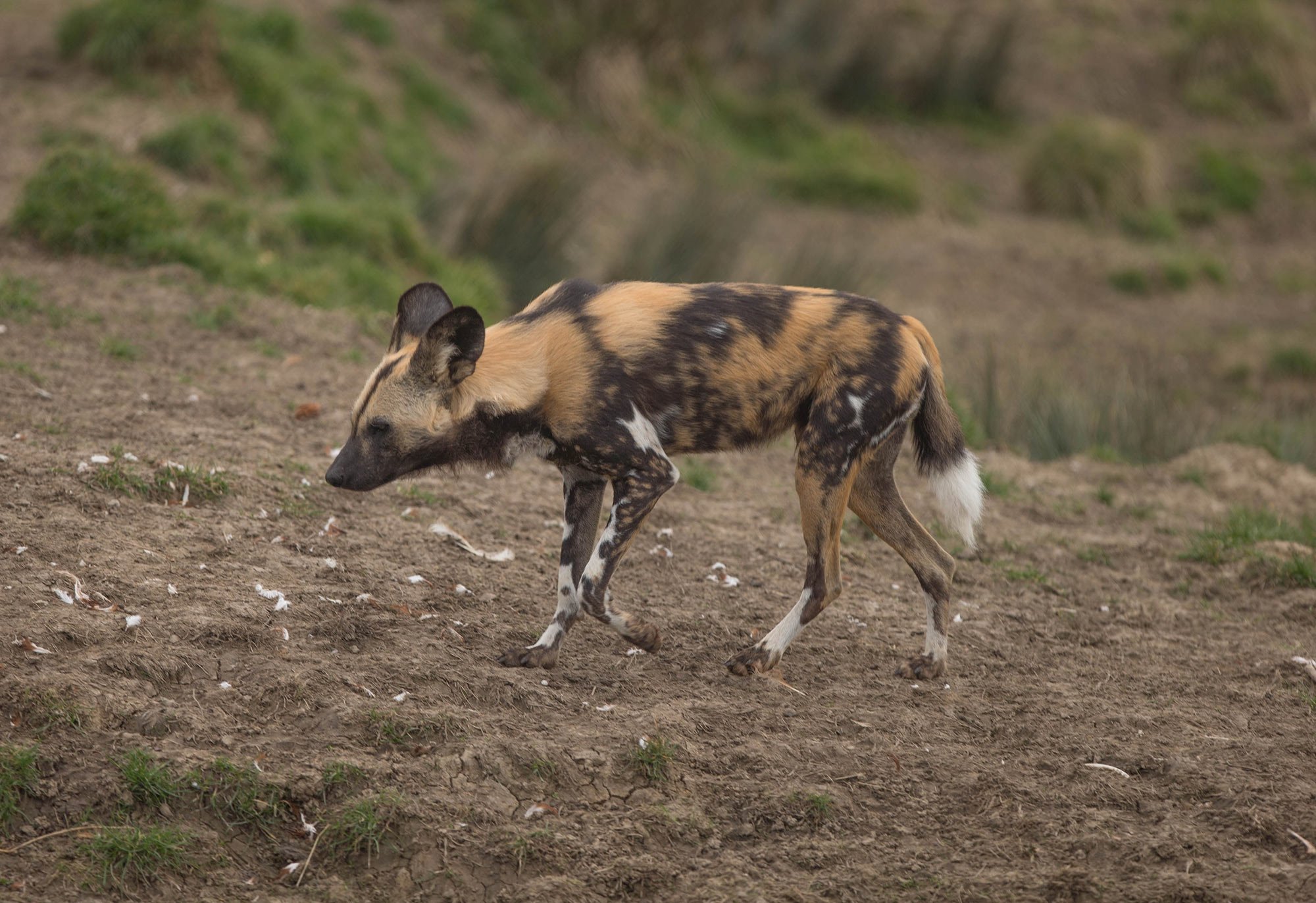 Pack leader, Five at Port lympne Hotel & Reserve in Kent.
Damian Aspinall, Chairman of The Aspinall Foundation said: 'This historic move could be the start of something very important to save these endangered dogs from extinction. It's been over 25 years since painted dogs were spotted in Gabon and, whilst this is just the beginning, it would be wonderful to restore wild packs to the area in the future.'

The pack will be cared for during their entire journey by Port Lympne Reserve's Animal Manager and African Painted Dog European studbook keeper, Richard Barnes.

Barnes commented: 'This is an incredibly exciting move and the first time a UK wild animal park has ever sent African painted dogs to their native land. The dogs will have a large fenced habitat to roam, whilst being monitored by the expert team at Parc de la Lékédi.'
The African painted dog pack at Port Lympne Reserve. Front: Madi

Port Lympne Reserve team are African Painted Dog experts

Port Lympne Reserve are the current holders of the African painted dog European Studbook. This means that they oversee the breeding and transfer of African painted dogs across Europe. The UK's first ever mother-raised litter of African painted dog puppies was born at Port Lympne in 1997. Parc de la Lékédi is a haven for rare species. Sodepal, supported and financed by a company called Comilog, runs Parc de la Lékédi in Gabon, an enclosed area of 14,000 ha of equatorial rainforest, grassland and lakes. The park's fences are carefully guarded and a complete hunting ban is strictly enforced.

The park is a sanctuary for wild and rehabilitated wildlife, including gorillas, chimpanzees, sitatungas, leopards, mandrills and a huge variety of reptiles and birds. An on-site sustainable fish farm has made Parc de la Lékédi the largest producer of tilapia in Gabon. The Parc de la Lékédi team also work with local schools in nearby Moanda and Bakoumba to educate children on the importance of protecting the environment.

African painted dogs require our protection, otherwise known as African wild dogs, cape dogs or painted wolves are listed as endangered on the IUCN ( International Union for Conservation of Nature ) Red List. Despite being one of the most efficient predators on the planet, the dogs' wild numbers are in decline as habitats are taken by farmland and conflict with humans increases. They are also susceptible to hybridisation with domestic animals and tick-borne diseases.

To follow the pack's journey to their new home please visit dogstogabon.co.uk

For further information about The Aspinall Foundation, please visit www.aspinallfoundation.org